Who hasn't dreamed of having their own little corner of paradise at home where they can enjoy a refreshing drink or a delicious cup of coffee? Adding a home bar or beverage station to your living space during your kitchen or basement remodel is not just a trend; it's a lifestyle choice packed with functional and entertainment value. Whether you're a coffee aficionado, a cocktail mixologist, or a health-conscious smoothie lover, this blog is for you! Belly up to some exhilarating beverage station ideas and home bar designs to help your new space perfectly support your dreams and plans.

Why Include a Bar or Beverage Station in Your Remodel?
Entertainment Value
Picture this: You're hosting a weekend gathering, and your friends are spread out between your living room, patio, and kitchen. How great would it be to have a centralized location with home bar essentials where everyone can gather to enjoy a drink, rather than diffuse and forage? A home bar or beverage station can quickly become the life of any party, allowing you to host with everything at hand.
Functional Convenience
How often do you find yourself scrambling through the kitchen cabinets searching for that elusive corkscrew or shaker? A designated space for all your beverages and accessories can streamline your daily routines. Whether it's a quick morning coffee or a relaxing evening tea, having everything you need in one place is incredibly convenient for guests and occupants alike.
Enhanced Home Value
A well-designed beverage station or home bar can increase your home's market value because it attracts savvy buyers who know the value of a well-designed space. It's an investment that pays off not just in daily utility but in adding a luxe touch to your everyday life.
Wondering what you'll pay for a kitchen remodel in our area? Explore the costs here.
Types of Bars and Beverage Stations
Coffee Stations
If your day doesn't start without a cup of Joe, then a coffee bar station equipped with a high-end coffee machine, various brew options, and a stockpile of your favorite beans is a must-have. Don't forget the creamers, syrups, sugars, and a range of mugs for that perfect morning ritual.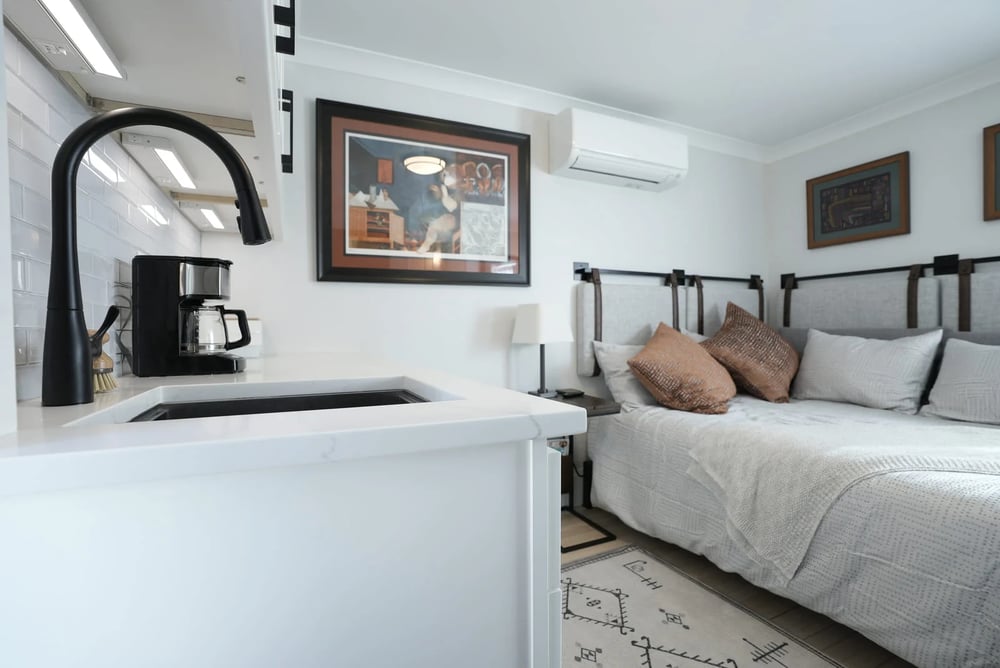 Wet/Dry Bars
A wet bar is essentially a bar with a sink, perfect for mixing cocktails and serving up various beverages. It's more involved than a dry bar and often features extras like a bar dishwasher for home use. Dry bars are a bit more paired down in that they don't include plumbing.
Outdoor Bars
For those who love entertaining outdoors, an outdoor bar equipped with a mini fridge, ice maker for home bar, and perhaps even an under-counter kegerator for that chilled beer can turn your backyard into an entertainment oasis.
Wine and Liquor Cabinets
For the wine connoisseurs, consider installing a built-in wine fridge and specialized wine storage cabinet. These setups allow you to store your bottles at the ideal temperature and humidity levels.
Kid-Friendly Beverage Stations
Why should adults have all the fun? A kid-friendly beverage station stocked with juices, flavored waters, and healthy snacks can be a big hit with the younger crowd. Especially during the season of life when children snack the day away, making options accessible and attractive may save everyone's sanity and preserve peace.
Key Features to Consider
Our design process allows for ultimate customization. Mix and match features to create a perfectly curated space.
Beverage Fridge
This is essential for keeping various drinks chilled and readily available. Consider a beverage station with a mini fridge with a clear display or a full-fledged fridge dedicated to drinks.
Custom-lit Display
Illuminate your prized collections with custom home bar lighting ideas. Whether it's LED strips or rustic Edison bulbs, lighting can add a touch of drama to your space.
Extra Dishwasher
Installing a bar dishwasher for home use can save you countless trips to the kitchen, making both preparation and cleanup a breeze.
Custom Storage
Think about pull-out drawers for mixers, home bar shelves ideas for spirits, and even specialized home bar cabinets for your pricier bottles. These custom storage solutions will not only keep your bar organized but also make it look incredibly chic. For a fully functional bar, dedicated space for cups, mugs, and other drinkware is a must. You can choose from pull-out drawers, elegant shelving, or even glass-fronted cabinets to display your collection.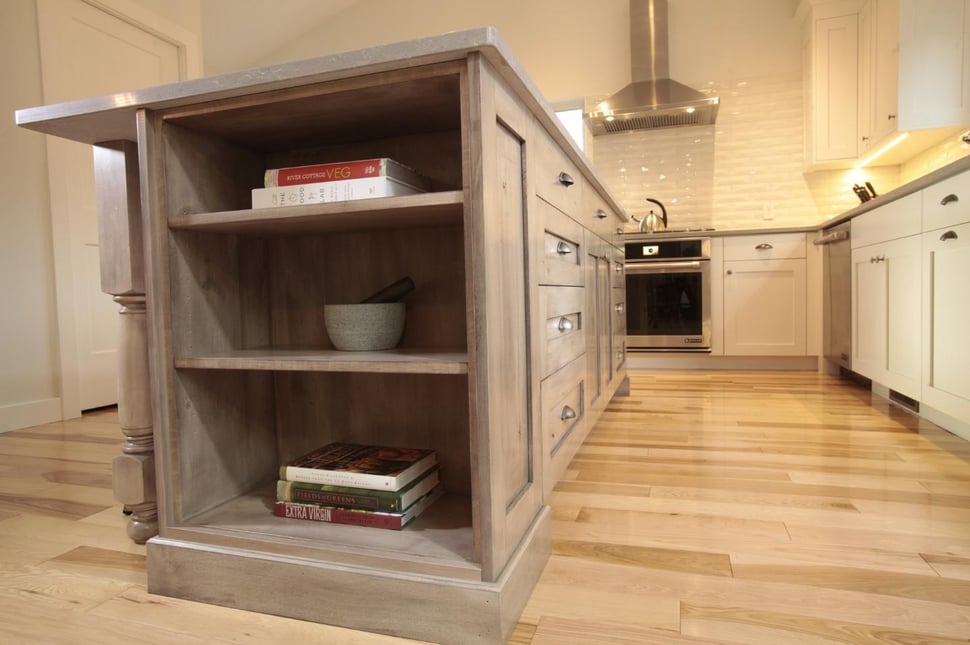 Second Sink + Filtered Water Filler
Having a sink in your beverage station can be extremely convenient, particularly for a home wet bar or coffee bar. Add a filtered water filler to provide an easy way to make drinks that require clean, pure water.
Built-in Coffee Maker
For those who are serious about their coffee, a built-in coffee maker can take your coffee bar station to the next level. With a variety of customizable brew options, your mornings will never be the same again.
Charging Stations
In today's connected world, having a place to charge your electronic devices is more of a necessity than a luxury. Adding a charging station to your bar or beverage area can offer unparalleled convenience for looking up new cocktail recipes on your tablet or keeping the party playlist going on your smartphone.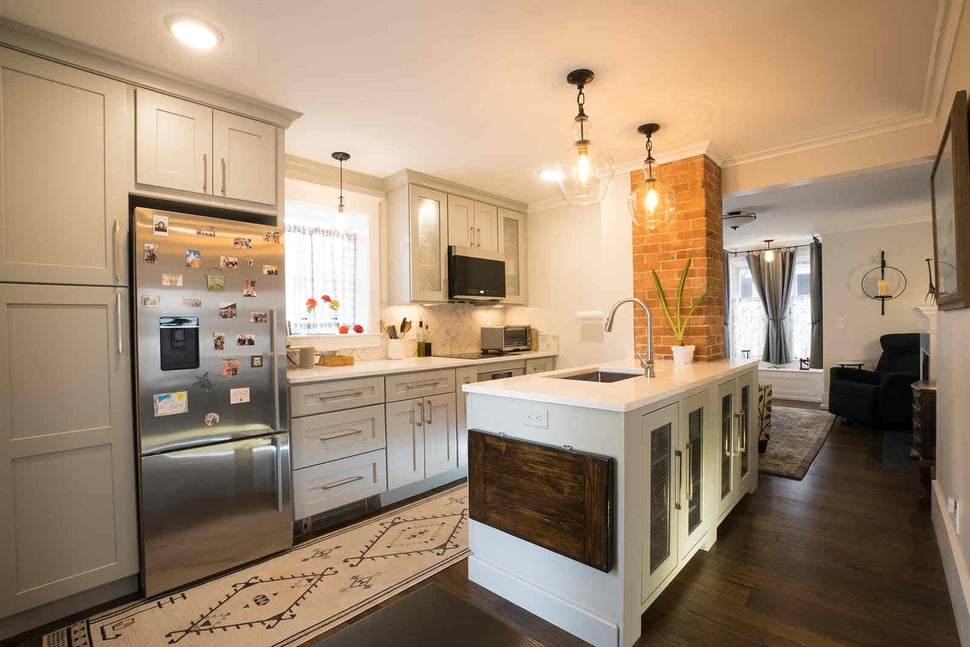 Sound System
Music and drinks go hand in hand when it comes to setting the atmosphere for a fun gathering. Integrated speakers or a built-in sound system can make your bar the life of the party.
Drawer Fridge
Perfect for a basement bar remodel, drawer fridges offer a compact yet efficient storage solution, freeing up floor space for other essentials.
Ice Maker
An ice maker for your home bar ensures you'll never have to run to the kitchen freezer in the middle of a gathering. Choose from a variety of types, including nugget ice makers for that perfect cocktail.
Beer on Tap
If you're a beer enthusiast, having your own tap can be the ultimate luxury. Consider installing an under-counter kegerator to keep your favorite brews chilled and ready to serve.
Oxland Builders Creates Personalized Perfection
Oxland Builders specializes in bringing your home remodel dreams to life. From design to construction, our team provides seamless, end-to-end service that will delight you with the results. We proudly serve the Seacoast area of New Hampshire. Reach out to us today for a consultation, and let's make your home the toast of the town!