Considering a kitchen remodel? Do you have a specific plan for some kitchen elements but need help rounding out every aspect of your upcoming new space? Step into the heart of the home and feast your eyes on the hottest kitchen trends that will leave you craving a stylish and functional upgrade. As a custom home remodeler, Oxland Builders stays up-to-date on the industry's latest trends and design innovations. A kitchen remodel is a significant investment that can transform your home and enhance your daily life. Ready to get inspired? Here are our top trends for kitchen remodels in 2023.

Best Kitchen Backsplashes This Year
Kitchen backsplash tiles are an important element of modern kitchen design. Whatever the choice, a stylish backsplash can elevate the kitchen's overall aesthetic while providing a practical solution for protecting walls from spills and splatters. Herringbone backsplash and chevron patterns are trending, adding a touch of elegance and sophistication to the kitchen space. Marble slab backsplashes are also popular, offering a luxurious and sleek look that complements a range of kitchen styles. Fireclay tiles, known for their durability and eco-friendliness, are another trending option. Other common tile selections include subway, hexagonal, and patterned mosaic tiles with unique interlocking shapes.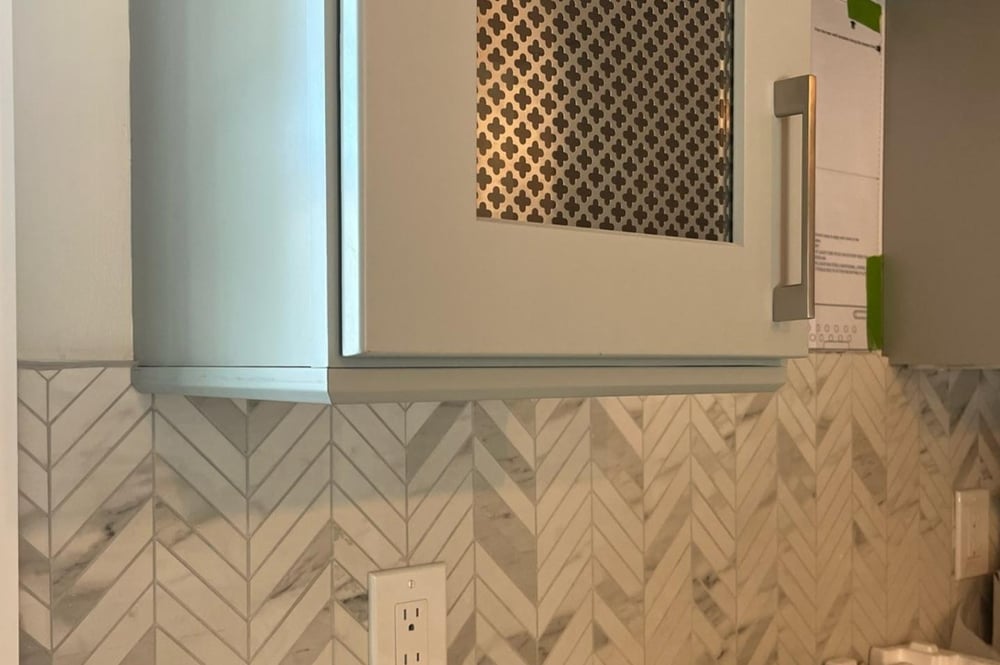 Kitchen Cabinet Ideas
The latest colors for kitchen remodels include warm neutrals like beige, taupe, and gray, as well as bold jewel tones like ruby, emerald, and sapphire. Two-tone kitchen cabinets continue to be popular. Custom built-in and pull-out storage solutions are also popular, with cabinets featuring personalized drawers and shelves for easy access. Built-in appliances, such as refrigerators and microwaves, create a streamlined look. Handles and pulls are available in countless finishes and styles, from sleek and modern to vintage and industrial. Popular options include brass, black, and brushed nickel finishes.
Trends in Kitchen Countertops
You have many options for your new countertops. Natural stone countertops, such as granite, marble, and quartzite, offer durability, beauty, and various unique patterns and colors. Butcher block countertops provide warmth and character and are perfect for food preparation areas. Live edge countertops made from reclaimed wood offer a rustic, one-of-a-kind look that can add a natural element to your kitchen. You can also mix and match countertop surfaces, using different materials to delineate workspaces and add visual interest. For example, you could use a natural stone countertop for the main preparation area and a butcher block countertop for the island or breakfast bar.
Wondering what you'll pay for your kitchen remodel? Find out about the regional average cost and the factors influencing each project's price tag here.

Kitchen Flooring for Your Seacoast Remodel
The perfect flooring for your Seacoast New Hampshire kitchen remodel is beautiful, durable, and easy to clean and maintain. Popular choices include hardwood, bamboo, tile, and luxury vinyl plank. Hardwood provides a warm, classic look, while tile offers a range of patterns and colors. Luxury vinyl plank (LVP) provides the look of hardwood with added durability and moisture resistance. Bamboo kitchen flooring is a sustainable, eco-friendly option that offers durability, moisture resistance, and a unique, natural look.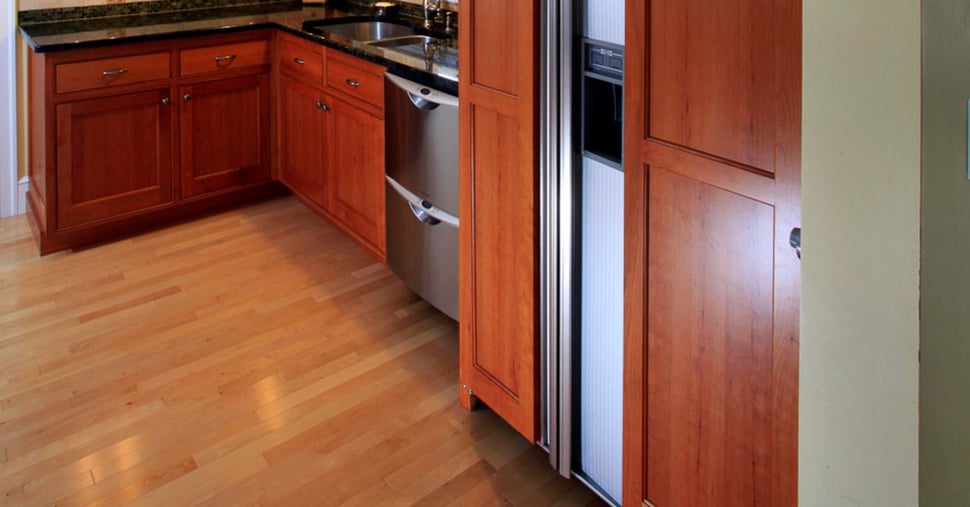 Kitchen Light Fixtures that Wow
Kitchen light fixtures play a crucial role in creating a functional and stylish new space. Use LED under cabinet lighting to illuminate your workspaces while creating ambiance and statement lighting fixtures as a focal point. Pendulum lights add visual interest and create a layered lighting effect. Chandeliers, track lighting, and recessed lighting are other popular options to offer the perfect combination of lighting for every occasion.
Everything And the Kitchen Sink
Kitchen sink trends are constantly evolving, but a few standout styles are currently popular. Large single-basin sinks, which offer plenty of space for washing large pots and pans, are a popular choice. Farmhouse or apron sinks add a rustic and charming touch to the kitchen. Composite sinks, made from a combination of materials like granite and quartz, offer durability and a sleek, modern look. Stainless steel sinks remain a classic choice for their durability and versatility, while colored porcelain sinks are making a comeback as a stylish statement piece.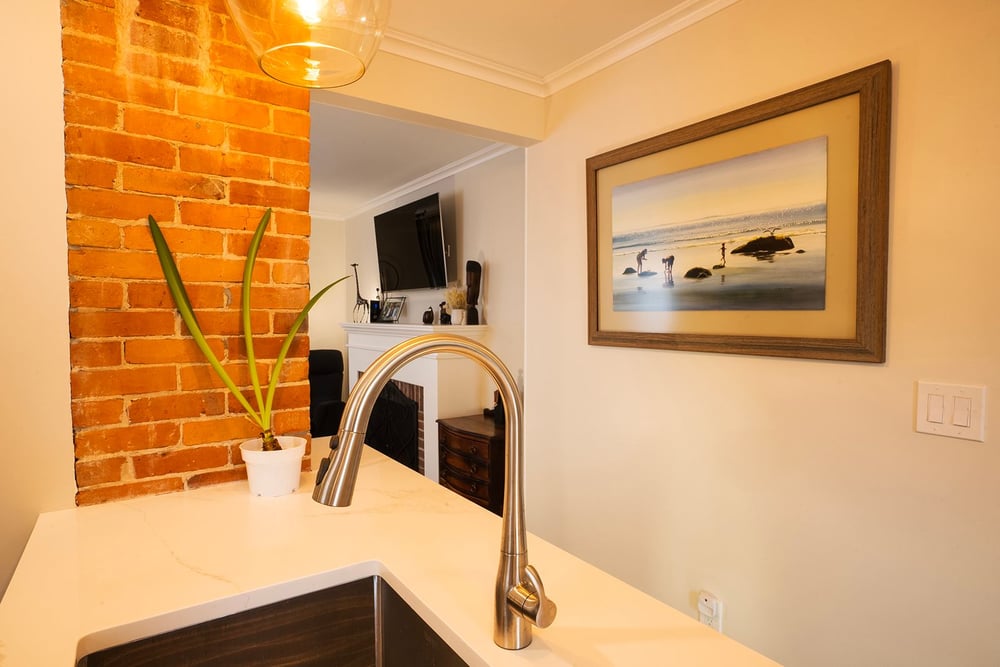 Kitchen Remodel Ideas for Aging in Place
With careful planning and thoughtful design, you can create a safe, functional, and stylish kitchen for aging in place. Consider investing in a universal design, which incorporates features that are accessible for individuals of all ages and abilities during your next remodel to ensure your current home is equipped to be your forever home. Remodeling a kitchen to age in place involves making it accessible and functional for individuals with mobility and other physical limitations. Popular universal kitchen design ideas include installing countertops at different heights to accommodate both standing and seated work, adding pull-out drawers and shelves in cabinets, installing a wall oven at a comfortable height, and incorporating a pull-down faucet and touchless controls. Other options include adding task lighting, contrasting colors to increase visibility and non-slip flooring for safety.
Best Colors for Seacoast, NH Kitchen Remodels
White kitchen aesthetics remain a classic choice and can be accented with bold colors like navy blue, emerald green, or cranberry red. 2023 color trends include nature-inspired color palettes, such as earthy browns and greens, which can add warmth and character to a kitchen. Black accents, such as a black kitchen island or black faucets, are also on-trend and for a modern, sophisticated touch. Other color suggestions relevant to our coastal area include cool blues and grays, which channel the surrounding landscape.

Oxland Creates Stunning Seacoast, New Hampshire Kitchen Remodels
Ready to talk more about the Seacoast, New Hampshire remodel you've got in mind? We'd love to talk to you! Reach out and start the conversation today!