Are you ready to transform your kitchen into the culinary haven of your dreams? The key to achieving the perfect kitchen lies in choosing the right countertops. As experienced professionals in the home remodeling industry, Oxland Builders understands the importance of selecting the ideal countertop material that not only enhances the aesthetics but also withstands the demands of everyday use. In this comprehensive guide, we'll unveil the best kitchen countertops, debunk common misconceptions, and provide valuable insights to help you make an informed decision. Get ready to discover the perfect countertop for your dream kitchen!

Best Kitchen Countertops for Your Dream Kitchen
When it's time to plan your kitchen remodel, selecting materials is part of the challenge and fun. It's crucial to consider factors such as durability, aesthetics, maintenance, and budget when finding the perfect countertop for your kitchen renovation project. To help you make an informed decision, let's explore a range of countertop materials, their benefits, and the overall value they bring to your dream kitchen.
Quartz Countertops: The Popular Choice for a Reason
Quartz frequently tops the list of requests. Many people believe that quartz can be a cost-effective alternative, but it's essential to debunk this myth. While quartz countertops are indeed durable, they are not indestructible, and the misconception of them being cheaper can lead to disappointment. Quartz countertops offer excellent longevity and a wide range of design options, making them a popular choice among homeowners. However, it's crucial to consider the overall budget and understand that quartz is an investment in quality and durability.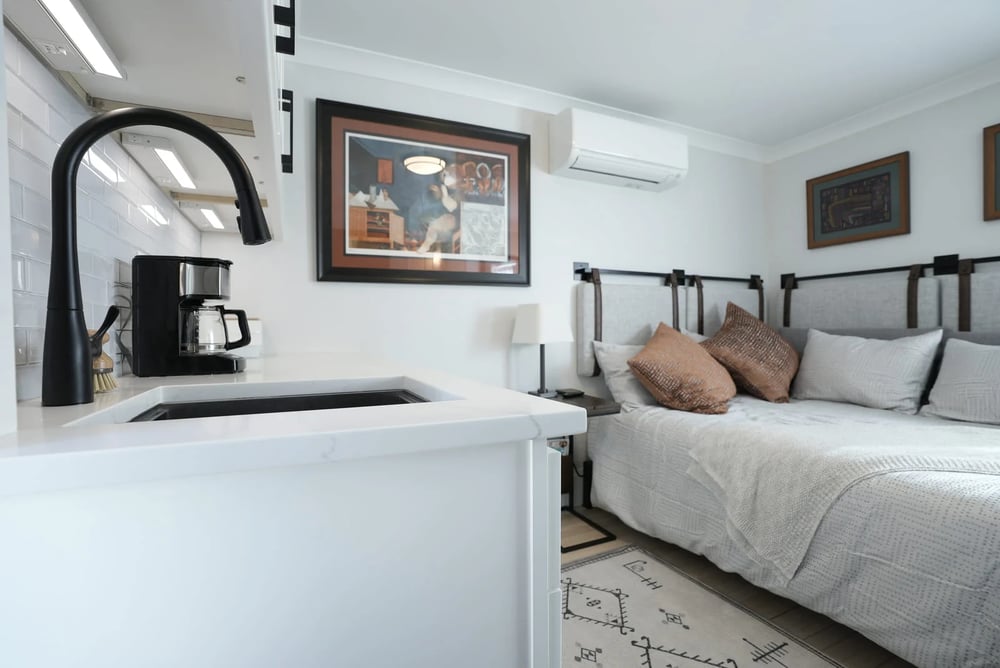 Granite Countertops: Timeless Elegance and Durability
Granite countertops have long been a popular choice due to their timeless beauty and exceptional durability. With a wide offering of colors and patterns, granite can effortlessly complement any kitchen design. Its heat resistance and scratch-resistant properties make it a practical and long-lasting option for your culinary adventures in your Seacoast kitchen remodel.
Quartzite Countertops: Natural Beauty and Strength
For those seeking the beauty of natural stone with added strength and durability, quartzite is an excellent choice. With its unique veining and stunning array of colors, quartzite countertops offer an elegant and sophisticated touch to your kitchen. This material is known for its resistance to heat, stains, and scratches, ensuring a countertop that can withstand time.
Marble Countertops: Timeless Luxury and Elegance
Marble countertops exude timeless elegance and luxury, making them a favorite among homeowners. The unique veining patterns and range of colors create a sophisticated and high-end look in any kitchen. However, it's important to note that marble requires regular sealing and maintenance to preserve its beauty and protect it from staining.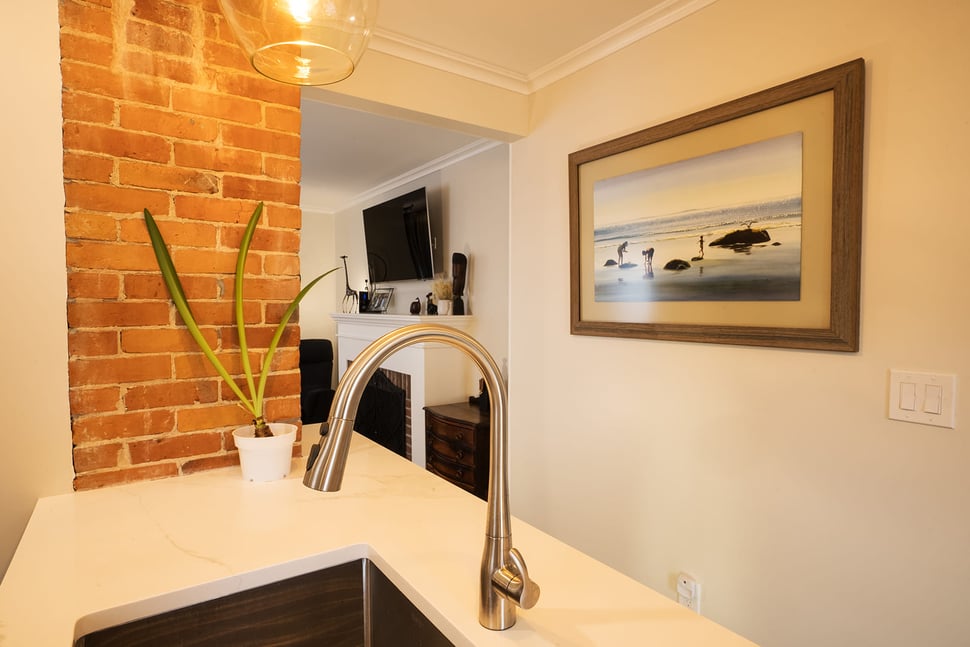 Butcher Block: Adding Interest and Warmth
Another countertop option that holds a special place in our hearts: butcher block. This versatile material is perfect to accent select areas, such as a kitchen island. It adds warmth and a touch of rustic charm to the space. Many people are hesitant to create wood countertops because they are unsure about longevity and durability. However, it's important to note that a true butcher block is made from end-grain wood, providing exceptional durability and resistance to knife marks. If you're seeking a countertop option that brings a unique character to your kitchen, consider incorporating a butcher block surface in your design.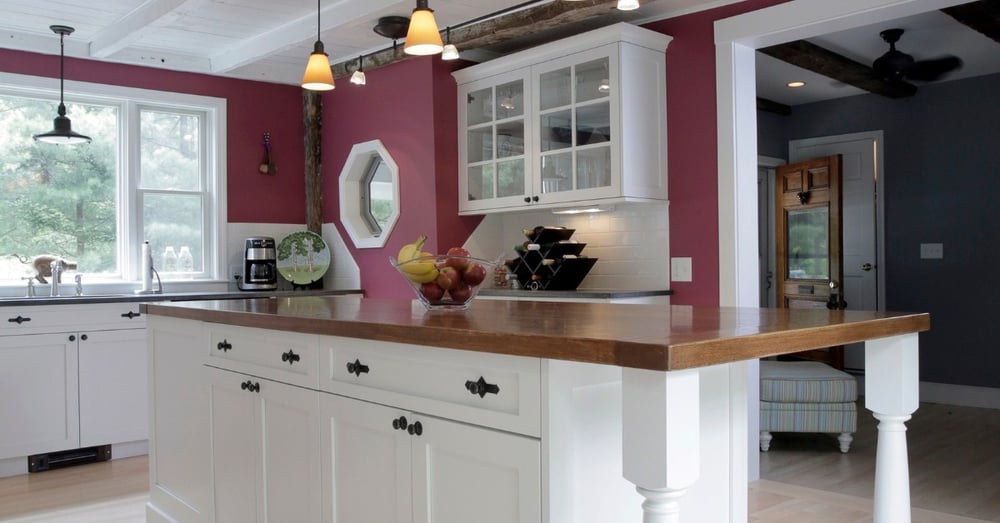 Stainless Steel Countertops: Sleek and Hygienic
Stainless steel countertops offer a sleek, modern aesthetic and are a popular choice in professional kitchens. They are incredibly hygienic, as they are non-porous and resistant to bacteria and stains. Stainless steel is also heat-resistant and easy to clean. However, it is prone to scratches and fingerprints, requiring regular maintenance to keep it looking its best. Additionally, it may dent over time, and the reflective surface can show wear and tear more visibly.
Soapstone Countertops: Timeless Charm and Durability
Soapstone countertops are known for their unique, natural beauty and warmth. They have excellent heat resistance and are incredibly durable, making them suitable for high-traffic kitchens. Soapstone is non-porous and requires minimal maintenance, usually needing only regular oiling to maintain its luster. However, it is softer than other stone options, making it prone to scratches and dents. Additionally, it develops a patina over time, which some may consider part of its charm.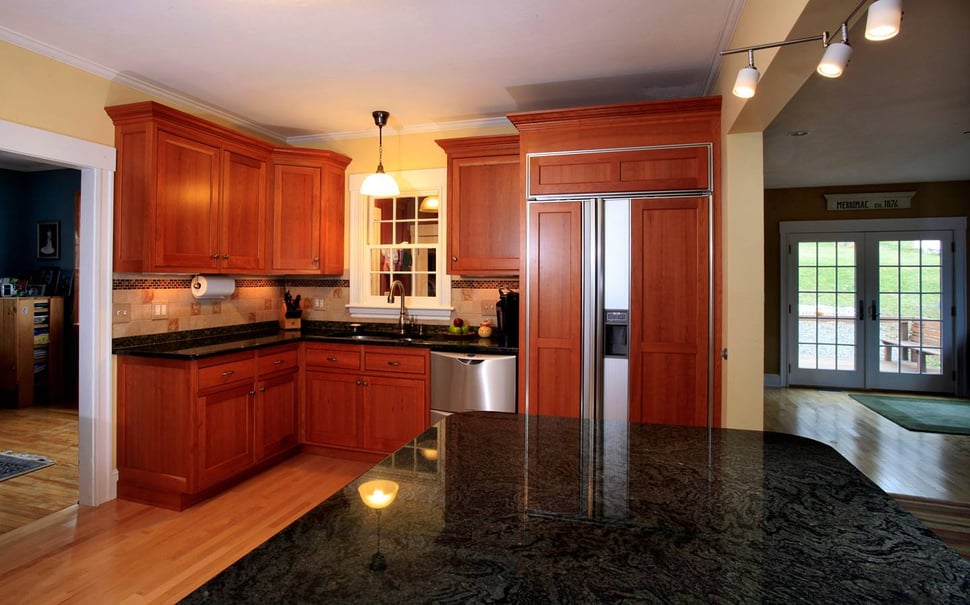 Concrete Countertops: Customizable and Industrial Chic
Concrete countertops offer a modern and industrial aesthetic, with the ability to be customized to suit your style. They are incredibly durable and heat-resistant, making them a practical choice for busy kitchens. However, concrete is susceptible to stains and requires regular sealing to protect against moisture and potential cracking. It can also develop hairline cracks over time, adding character but potentially requiring maintenance.
Limestone Countertops: Natural Elegance with Careful Maintenance
Limestone countertops bring a touch of natural elegance to your kitchen with their subtle beauty and earthy tones. They are relatively heat-resistant and less expensive than other natural stone options. However, limestone is a porous material, making it prone to staining and etching from acidic substances. Regular sealing is necessary to protect its surface, and extra care must be taken to avoid harsh cleaning agents that can damage its delicate structure.
Recycled Glass Countertops: Eco-Friendly and Stunning
Recycled glass countertops are an environmentally-friendly choice that combines recycled glass chips with a binder material. They offer a unique and vibrant aesthetic, with a wide range of color options available. Recycled glass countertops are non-porous, heat-resistant, and easy to clean. However, they can be prone to chipping or cracking if heavy objects are dropped on them. Additionally, the shiny surface may show fingerprints and require regular cleaning to maintain its sparkle.
Solid Surface Countertops: Versatile and Low Maintenance
Solid surface countertops, such as Corian, offer versatility and ease of maintenance. They come in various colors and can be seamlessly integrated into any kitchen design. Solid surface materials are non-porous, making them resistant to stains and easy to clean. They also provide the added benefit of seamless integration of sinks and backsplashes for a sleek and cohesive look.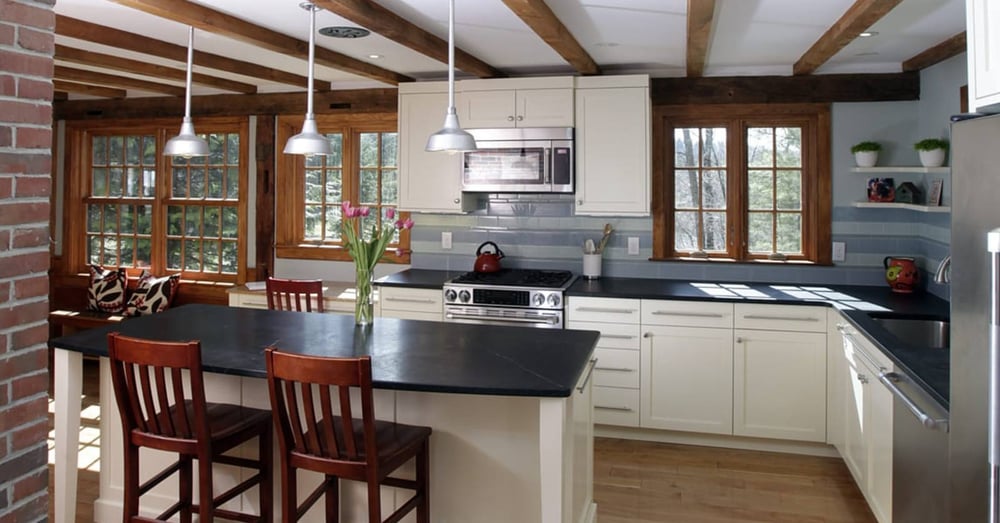 Laminate Countertops: Affordable and Stylish
For those on a budget, laminate countertops offer an affordable yet stylish option. With technological advancements, laminate surfaces now come in a wide range of patterns, colors, and textures, mimicking the look of natural stone or wood. Laminate is easy to clean, low maintenance, and provides endless design possibilities for your dream kitchen.
Wondering what you should budget for your kitchen remodeling project on the seacoast? We break down kitchen remodeling costs in our kitchen cost guide.
Oxland Builders Creates Your Kitchen Remodel Dreams
Whether you opt for the timeless elegance of granite, the natural beauty of quartzite, or the versatility of solid surface countertops, Oxland Builders is here to help you bring your vision to life. Contact us today and take the first step toward transforming your kitchen into the heart of your home that looks and works the way you desire. Your dream kitchen awaits!