Navigating the golden years shouldn't compromise comfort or style, especially in your home. Aging in place - the ability to live safely, independently, and comfortably in one's own home and community has become an increasingly popular lifestyle choice for seniors. It acknowledges and embraces the value of familiarity and the dignity of independence, and a key part of this philosophy lies in designing an accessible, functional, and beautiful bathroom.
Oxland Builders of Seacoast New Hampshire is pleased to provide this comprehensive guide to walk you through essential design elements and innovative ideas for an age-in-place bathroom remodeling. Let's explore how you can combine practicality with elegance to create a space that is as safe as it is serene.

Age-in-place Bathroom Features to Consider
An age-in-place bathroom transcends mere utility, becoming a haven of safety and ease without sacrificing aesthetic appeal. Whether you're looking to future-proof your home or cater to immediate needs, a well-designed bathroom can significantly enhance the quality of life for seniors or anyone with mobility or dexterity challenges.
Zero Entry Shower
A zero entry, or curbless shower, is crucial for age-in-place bathroom design. It eliminates the traditional raised shower threshold, meaning there is no need for stepping or climbing to get into the shower area, thus significantly reducing the risk of falls. The seamless design, merging the bathroom floor with the shower floor, results in an uninterrupted surface that can be easily accessed by seniors, those with mobility issues, or even those in wheelchairs. For additional ease of access, consider pairing a curbless shower with a roll-in design to accommodate wheelchair users. This type of shower isn't just about functionality and safety; it also provides a modern, sleek look that can enhance your bathroom's overall aesthetics and proves popular with many buyers.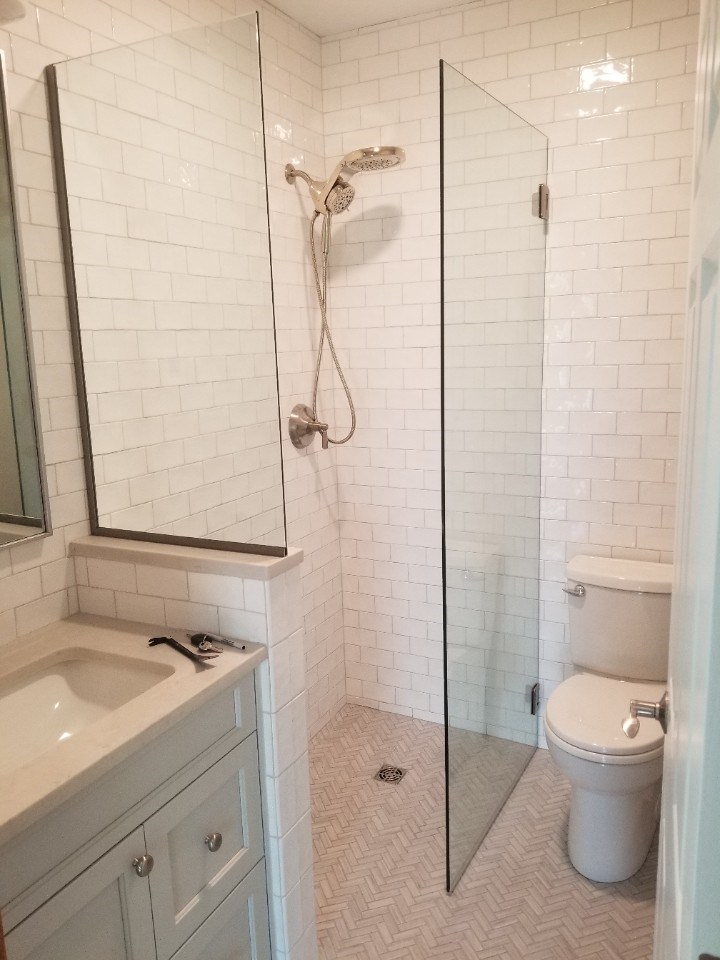 Multiple Shower Heads or Handheld Showerheads
Introducing multiple shower heads for a handheld shower head into your bathroom design can offer flexibility and easy use. A handheld showerhead offers the convenience of directing the water exactly where it's needed, providing an ideal solution for those needing to shower while seated or having difficulty reaching overhead. Your new showerheads can be equipped with various spray settings, allowing users to adjust the water flow to their preference.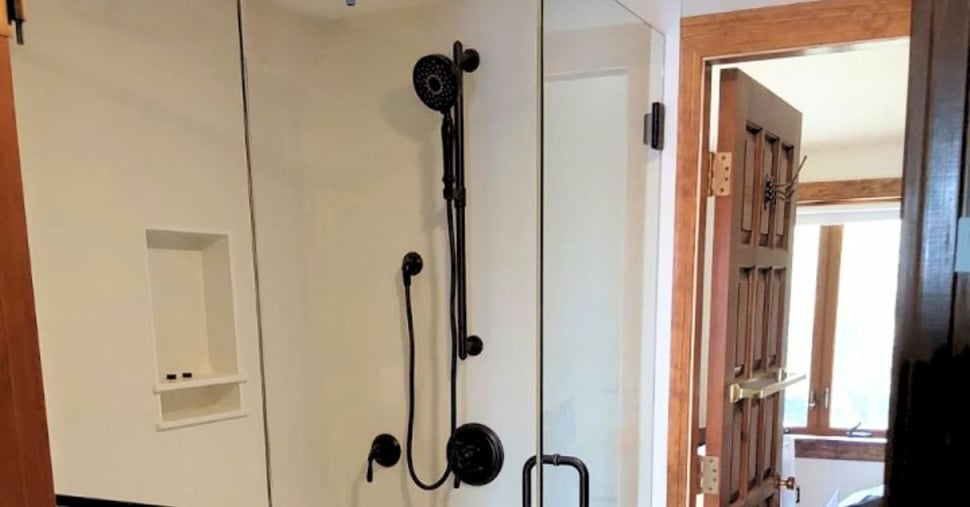 Bench in the Shower
Incorporating a bench in the shower area can be a game-changer when designing a senior-friendly bathroom. This feature provides a comfortable and safe place to rest during the shower, reducing the risk of slips and falls while promoting relaxation. For seniors or individuals with mobility issues, this additional support can make personal hygiene tasks much easier and safer. For an even better experience, consider a built-in bench that matches your shower's aesthetics, or a fold-down seat for more flexibility and space conservation when not in use.
Steam Shower & Sauna
Steam showers and saunas aren't just luxurious additions to your bathroom; they can also offer therapeutic benefits. The warm steam can aid in easing joint pain, improving circulation, and promoting relaxation, providing relief to common ailments among seniors. However, safety measures such as non-slip flooring and appropriate seating should be incorporated into these features to prevent accidents and ensure a safe, enjoyable experience.
Walk-in Bathtub
Walk-in bathtubs are a significant upgrade from traditional bathtubs for those considering aging in place. Their unique design includes a door for easy entry and exit, eliminating the need to climb over the side of the tub, which can be challenging and risky for seniors or those with mobility issues. These tubs often come equipped with built-in safety features like handrails for additional support, non-slip floors to prevent falls, and comfortable seating, allowing users to bathe safely and comfortably without the need to lower themselves to the floor level. Some models also offer therapeutic features like hydrotherapy jets, for extra comfort and fun.
Grab Bars
Grab bars are one of the simplest yet most impactful modifications in an age-in-place bathroom design. They provide stability and support, aiding in transitions like standing, sitting, or moving within the bathroom. However, it's not enough just to install them—they must be installed correctly to serve their purpose effectively. Proper installation ensures they're fastened securely to an appropriate material, capable of bearing weight without loosening or causing damage. Additionally, they need to be placed thoughtfully, with expert input on the best locations for support based on the user's needs.
Wondering what your bathroom remodel in New Hampshire might cost? We've got details here.
Bidet
Installing a bidet can significantly aid in personal hygiene, especially for those with difficulty with traditional toilet paper usage. Modern bidets often come with additional features like warm water, heated seats, and even air dryers, providing an improved and comfortable bathroom experience. However, incorporating a bidet requires considering the placement of electrical outlets to cater to these heat elements and other functionalities.
Taller Toilet
The height of the toilet seat can make a substantial difference for seniors or individuals with mobility issues. Traditional toilets often sit at a height that can make sitting down and standing up challenging. By opting for a higher-seated toilet, you can improve this experience significantly. This modification, often called "comfort height," brings the toilet seat closer to the user, reducing the effort and risk associated with these transitions.
Counter Height
Traditionally, kitchen countertops stand about 36 inches high, while bathroom counters range from 32 to 34 inches. However, when considering an age-in-place bathroom design, adjusting this height can prove beneficial. A slightly higher countertop can make the vanity more accessible, reducing the need to bend over to use the sink or mirror. This adjustment can be especially helpful for seniors with back issues or wheelchair users when coupled with a floating vanity design.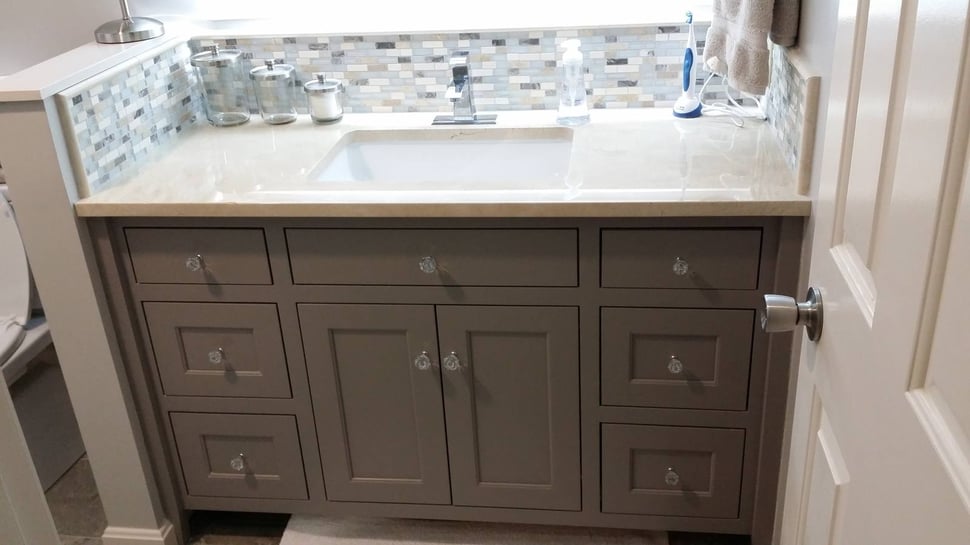 Floating Vanity
Mounting the vanity off the floor provides extra legroom underneath, allowing a wheelchair user to get closer to the sink and mirror. This design aspect ensures that the vanity is usable from a seated position and enhances overall accessibility.
Wheelchair-friendly Layout
A successful age-in-place bathroom design must consider the layout's overall accessibility, particularly for wheelchair users. Traditional bathroom doors may be too narrow to accommodate walkers, wheelchairs, or other mobility aids comfortably. A wheelchair-friendly layout ensures there's enough space for easy maneuvering and turning of a wheelchair or walker. It's crucial to maintain a spacious, unobstructed path through the bathroom, with sufficient clearance around fixtures such as the toilet, shower, and vanity.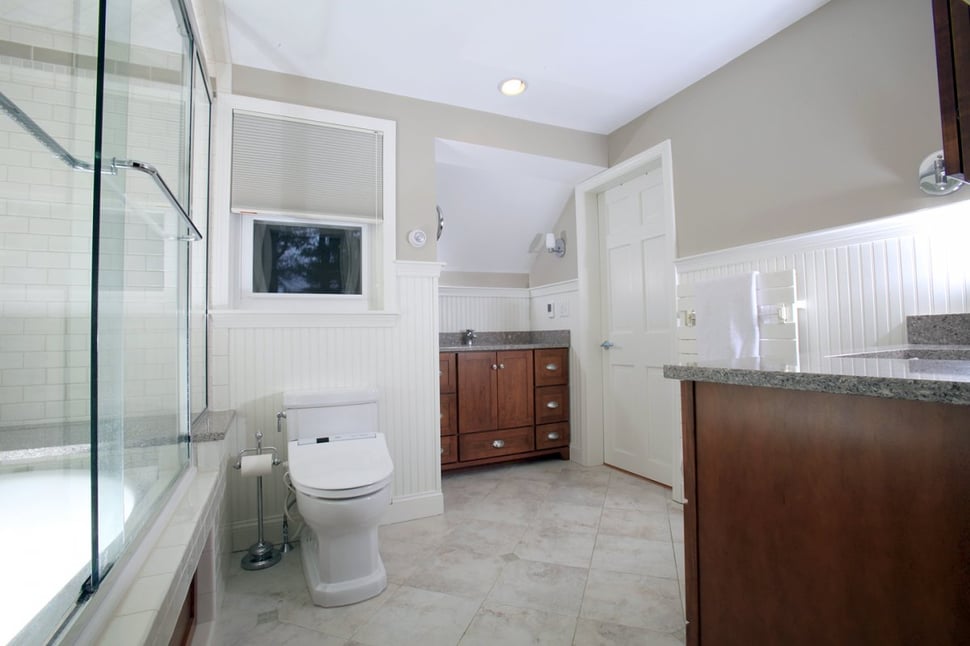 Non-Slip Flooring
Choosing the right flooring is crucial in preventing falls, one of the most common bathroom accidents. Opting for a non-slip floor can significantly enhance the bathroom's safety. Look for materials that offer friction, even when wet. Thankfully, there are a variety of great options for non-slip flooring that matches your desired look, whether it's modern, classic, or rustic.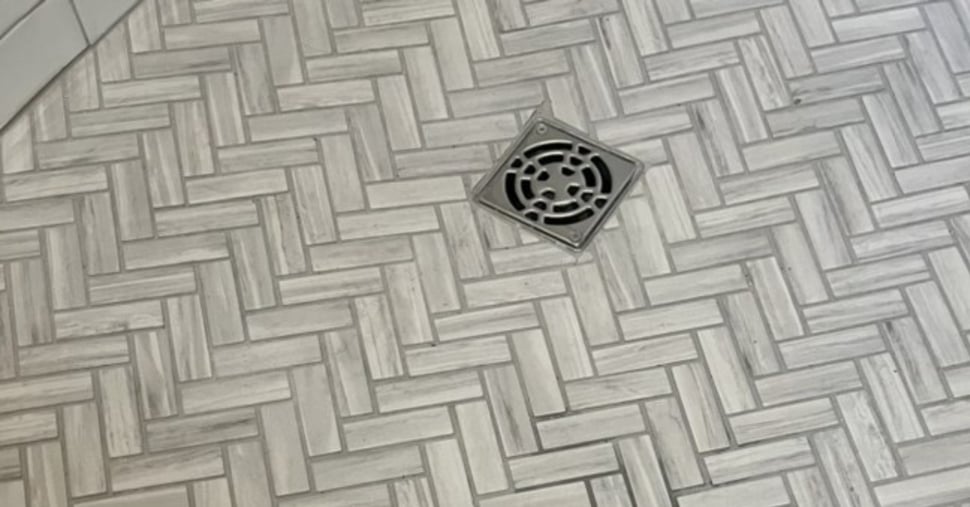 Other Assistive Devices
Finally, consider additional assistive devices that can enhance the bathroom's functionality. Features such as toilet paper holders designed for one-handed changing, easy-to-turn faucet handles, and touch or motion sensor lights can significantly streamline bathroom use. These small additions can make a considerable difference in the independence and ease of use for anyone in the home.
Our expert team, based in the Seacoast area of New Hampshire, is ready to partner with you. We will guide you through every step of your bathroom remodel, from initial planning to final touches, all while ensuring that your space is functional, accessible, and reflective of your personal style. Don't wait to enjoy the comfort and safety of an age-in-place bathroom. Contact Oxland Builders today, and let's embark on a journey to create a bathroom that allows you to age gracefully right where your heart is - at home.