Cost is an important concern if you're planning a bathroom remodel in your home in Portsmouth, Stratham, Exeter, or other areas on the seacoast. Without an accurate budget, it's difficult to determine the features and luxuries you can afford to add to the room. Oxland Builders knows our way around a bathroom remodel and the perfect time to remodel. Check out our project gallery for proof. Hopefully, our exploration of bathroom renovation costs will help you plan your budget.
Estimated Bathroom Remodeling Costs
Even the most stylish bathrooms eventually become worn and dated. Expanding or renovating your bathroom will give you the amenities and storage you need and allow you to add a few personal touches to the room.
So how much will you pay for a bathroom renovation? These estimates from Remodeling's 2022 Cost vs. Value reports cover the Seacoast New Hampshire region and surrounding areas.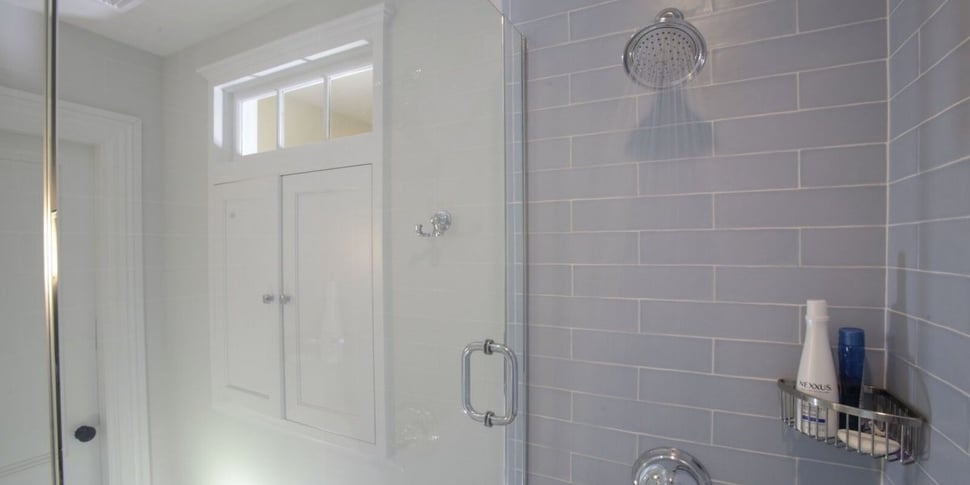 Seacoast Remodeling Costs

Midrange Remodel: $29,277
Upscale Remodel: $88,704
Universal Design Remodel: $44,472
Midrange Addition: $70,047
Upscale Addition: $124,243
Curious about the costs and contributing factors for other seacoast area remodeling projects? Head here to find out more about the cost of your renovation.
What You'll Get for Your Money When You Remodel
A midrange bathroom remodel is based on updating an existing 35-square-foot bathroom. Remodeling Magazine's estimate includes these features and fixtures:
A standard white toilet

Ceramic tile floor

Vinyl wallpaper

A 30" by 60" porcelain-on-steel bathtub

4" by 4" ceramic tile surround

Single-lever temperature and pressure-balanced shower control

Solid-surface vanity counter with integral sink

Recessed medicine cabinet with light
Although a midrange renovation will certainly give you a much-improved bathroom, it might not include all of the features on your ultimate wish list. Upgrading to an upscale remodel will help you create a luxurious bathroom with plenty of amenities. An upscale remodel is based on expanding a standard 35-square-foot bathroom to 100 square feet. The renovation includes:
Relocation of all of the fixtures

Soaker tub with high-end faucets

42" by 42" neo-angle shower

Ceramic tile shower walls with accent strip

Body spray fixtures and frameless glass shower enclosure

Stone countertop with two sinks

Custom cabinets

Two mirrored, lighted medicine cabinets

Compartmentalized commode area with one-piece toilet

Humidistat-controlled exhaust fan

General and spot lighting

Large ceramic floor tiles

In-floor electric heating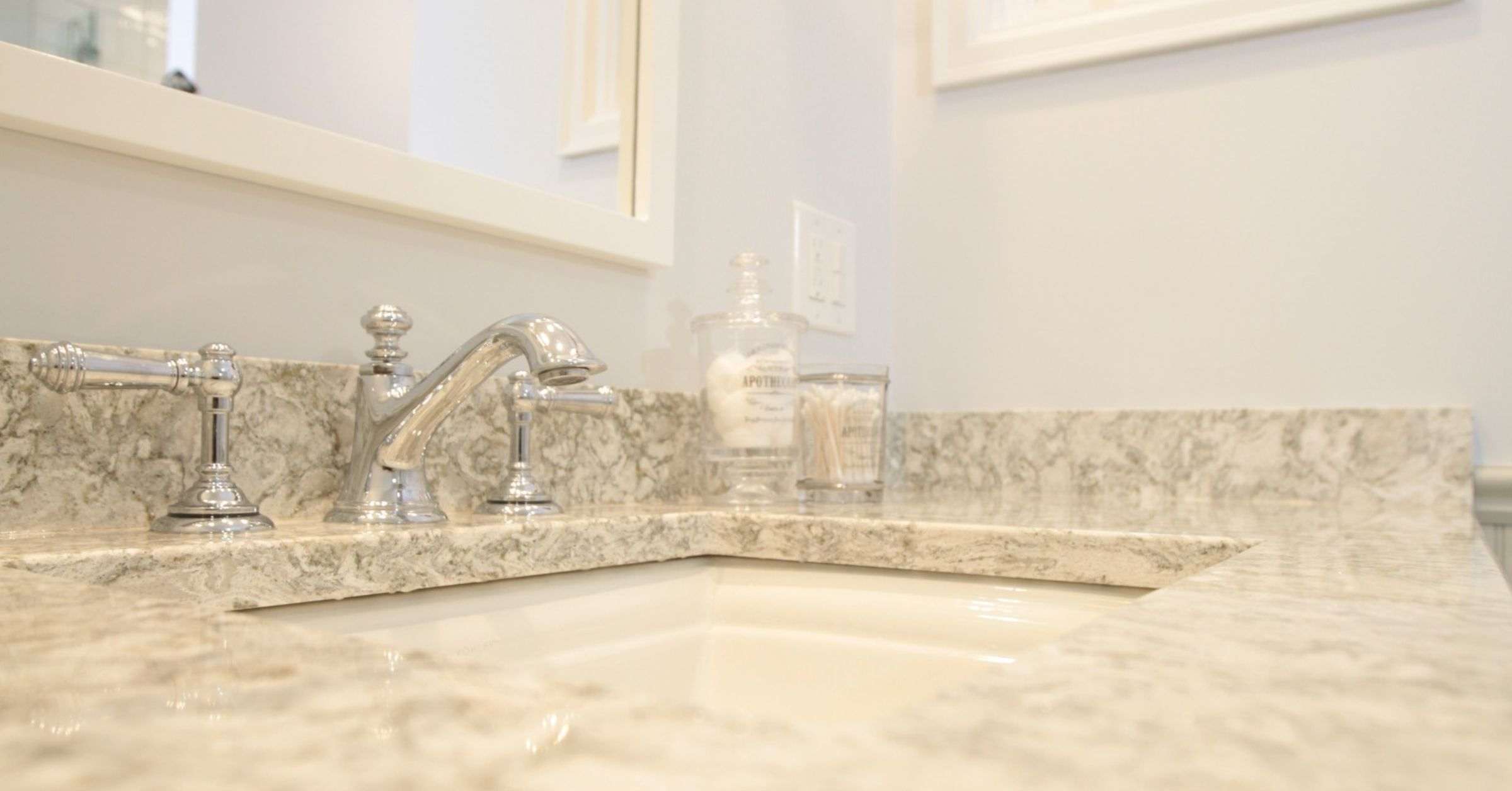 If you plan to age-in-place in your home, you may want to consider using universal design techniques to make one of your bathrooms handicap accessible. Should you ever develop mobility issues or need to use a wheelchair, you'll appreciate the convenience of an accessible bathroom. Many of the features for accessibility are easy to include during a remodel, but difficult to add later. If you plan to age in place, failing to include accessibility features may sign you up for another bathroom remodel later. The universal design remodel estimate is based on updating an existing 5' by 7' bathroom. It includes:
Comfort-height toilet with elongated bowl and bidet-style seat

Zero-threshold, 36" wide door

Flat-panel electrical switches at sitting height

A curbless, tiled walk-in shower in place of the bathtub

Adjustable showerhead with thermostatic mixing valve

Fold-out shower seat

Storage accessible from a seated position

Radiant in-floor heating under luxury vinyl tile floors

Adaptive living vanity with adjustable mirror and easy-grasp handles

Infrared ceiling light

Ultra-quiet vent fan with humidity-sensing controls

Towel bars that can support 250 pounds

Ceramic towel on walls
Accessible bathrooms don't have to look bland and institutional. We can help you create a bathroom that's not only accessible but stylish. If you'll be renovating your master bath, there's no reason why you can't incorporate upscale features and amenities into the universal design. Talk to your bathroom designers about features to consider for an accessible bathroom remodel.
Planning on Adding a Brand New Bathroom?
An addition gives you all the space you need if there's not enough room in your existing floor plan to create the bathroom experience you envision. Remodeling Magazine bases its midrange and upscale addition estimates on bathrooms added over crawlspaces.
Their midrange bathroom addition is a typical bathroom, sized at 48 square feet and offers:
Poured concrete walls

White, low-profile toilet

30" by 60" white fiberglass shower/tub combination

Ceramic towel shower surround

Cultured stone vanity top with molded sink

Chrome faucets

Single-lever temperature and pressure-balanced faucets

Ceramic tile floor

Mirrored medicine cabinet

Linen storage closet

General and spotlighting
The upscale bathroom addition adds 100 square feet to your home and includes all of the features listed above in the upscale bathroom renovation section. Are you unhappy with your current master bedroom? Why not build an entire master bedroom suite addition complete with a luxurious bathroom, huge walk-in closets, a large sitting area, and a cozy fireplace?
Features That Will Add a Touch of Luxury to Your Bathroom Remodel
If you're going to splurge on a bathroom remodel, it makes sense to incorporate a few of the many high-tech products available today. Adding one or more of these bathroom remodel must-haves will help you turn your bathroom into the ultimate oasis:
Steam Shower:

A steam shower is more than just a luxury. In fact, adding one of these showers will help you reduce stress, boost your circulation, moisturize your skin, and even keep your sinuses clear. Steam showers can be customized with lights, speakers, and aromatherapy pumps.
Soaking Tub:

Is your current bathtub too shallow for a good soak? Adding a soaking tub to your new bathroom will take care of that problem. Soaking tubs are deep enough to cover your entire body and are usually big enough to fit two adults. Underwater speakers, jets, and chromatherapy lights can be added to the tub if you wish.
Waterproof Television:

While you're soaking in your new soaking tub, catch up with the news or watch a movie on your waterproof television. The TVs are specially designed to withstand a little humidity or splashing.
Smart Mirror:

One minute it's a mirror, the next it's a WiFi-enabled digital touchscreen. Thanks to your smart mirror, you can shop for new bathroom towels, check the weather outside or listen to music while you get ready for the day ahead. Many smart mirrors offer digital voice assistance and video calling too.
The Ultimate Toilet:

Tired of cleaning the toilet? Choose a self-cleaning model for your new bathroom. Today's high-tech toilets offer plenty of luxurious and creative touches, including massage features, built-in bidets and dryers, motion-activated lids, heated seats, and night lights.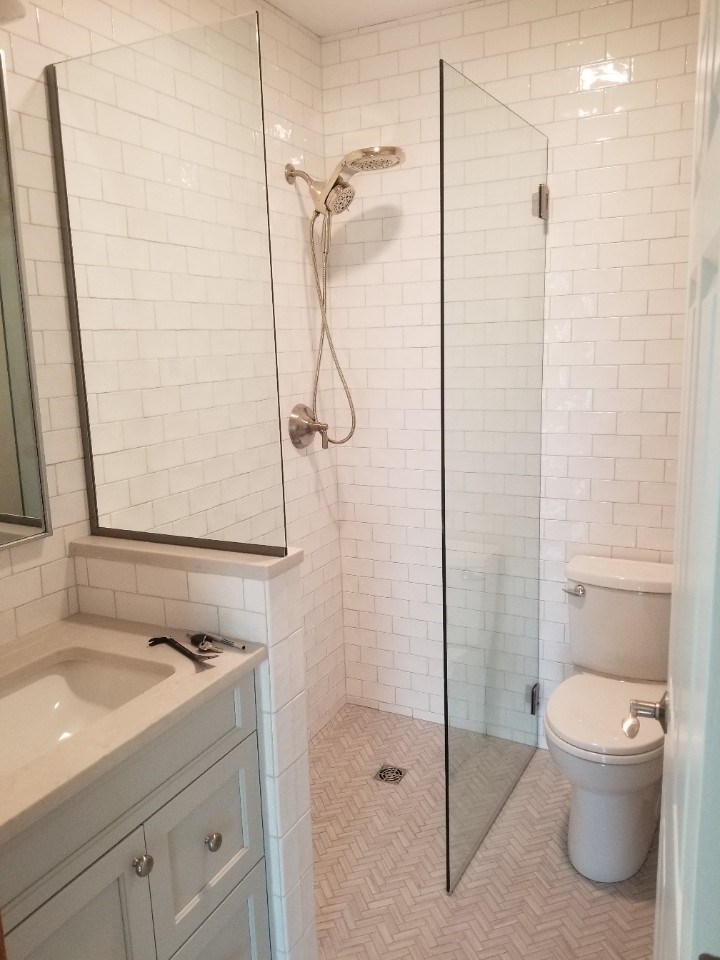 Are you eager to get started with your bathroom renovation? Contact us, and we'll help you explore all the ways you can transform your bathroom.
This article uses data from the most recent 2022 Remodeling Cost vs. Value report, which pulls averages from 2021. Due to unprecedented market volatility and supply chain irregularities last year, residential construction prices in New Hampshire seacoast have increased up to 25% for some projects. Discuss with an experienced builder to know the most accurate and up-to-date building cost estimates. Now it's more important than ever to hire a professional contractor with longstanding supply and labor relationships.