The bathroom is a sanctuary where we seek relaxation and rejuvenation. As we step into 2023, it's crucial to stay up-to-date with the latest bathroom trends while steering clear of outdated aesthetics. Declining trends or of-the-moment design choices could quickly date your new space and obligate you to another renovation sooner than you'd like. As trusted design-build remodelers on New Hampshire's Seacoast, we're pleased to use our expert eyes and insight to explore bathroom aesthetics, materials, and styles that are falling out of favor, helping you create a timeless bathroom that exudes both beauty and functionality. Discover how to avoid design mistakes and achieve a bathroom that will stand the test of time.

Bathroom Design Trends to Avoid
By avoiding outdated bathroom trends and following timeless design principles, you can create a bathroom that remains stylish and functional for years to come. That said, it's your bathroom. Include whatever elements you like. A well-designed bathroom can reflect your personal style while incorporating elements that have enduring appeal.
Strip Glass Mosaic Backsplash
While strip glass mosaic backsplashes have been popular in the past, they are losing their appeal and popularity. Homeowners are now opting for more sophisticated and streamlined options such as large-format tiles or natural stone. These materials create a seamless and elegant look, whereas small glass strips of accent tile may firmly anchor your bathroom to a bygone era.
Brushed Nickel Fixtures
Brushed nickel fixtures, once a staple in bathroom design, are starting to fade away. Trends are now leaning towards alternative finishes like matte black or polished chrome for a more modern and polished look. These finishes add a touch of elegance and can create a cohesive style throughout the bathroom space.
Beige Bathrooms
Beige bathrooms, once considered a safe and neutral choice, are appearing less frequently. Homeowners are embracing bolder and more vibrant color palettes, such as shades of blue, green, or even pink or yellow, to create a striking and visually appealing bathroom. These colors inject personality and create a focal point, expressing your point of view through design.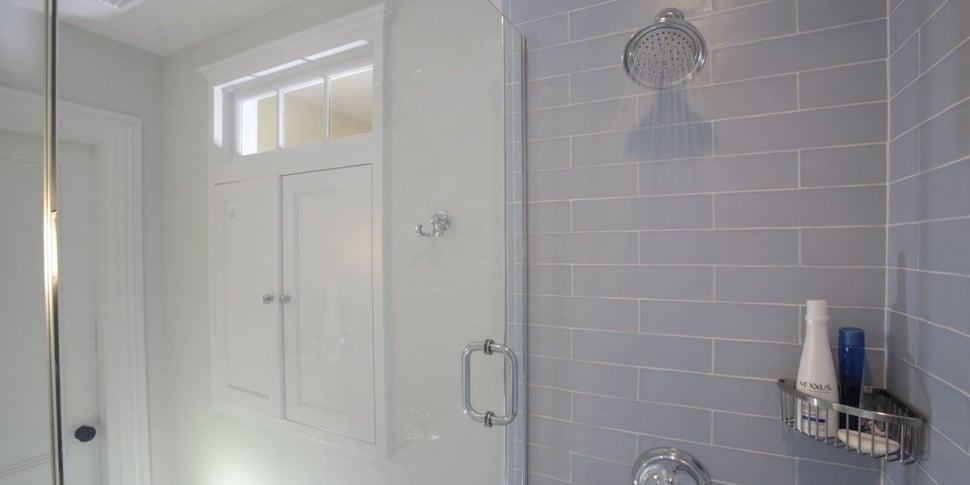 Accent Tile in Shower
We've already spoken about those strips of accent tile as backsplashes, but it bears repeating. While accent tiles in the shower have been used to create visual interest, they are gradually losing their popularity. We now see more projects using the same tile throughout the shower area. This creates a seamless and elegant appearance, making the bathroom feel more spacious and unified.
Frosted Shower Doors
Frosted shower doors, once a popular choice for privacy, are also less popular these days. Fashion now favors clear glass or frameless shower enclosures that create an open and airy feel, allowing natural light to flow freely. This also gives the illusion of a larger space, making the bathroom appear more inviting and luxurious.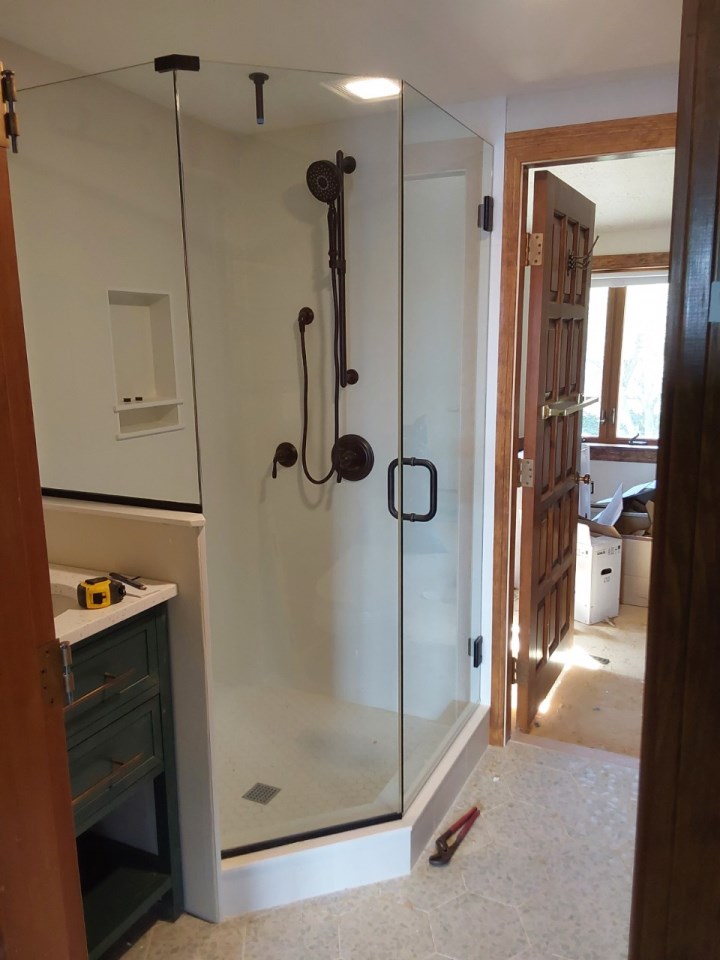 Outdated Fixtures and Layouts
Bathrooms that are stuck in a time warp with old fixtures, outdated tiles, and inefficient layouts are a thing of the past. Homeowners are embracing bathroom remodels that incorporate modern design elements, smart technology, and energy-efficient fixtures. A well-executed bathroom renovation can transform a dated space into a functional and stylish oasis.
Glass Block
Glass block, once a popular choice for shower enclosures and partitions, is becoming less favored. Most new bathroom designs include sleeker and more modern options like frameless glass or clear glass enclosures that create a spacious and open feel in the bathroom.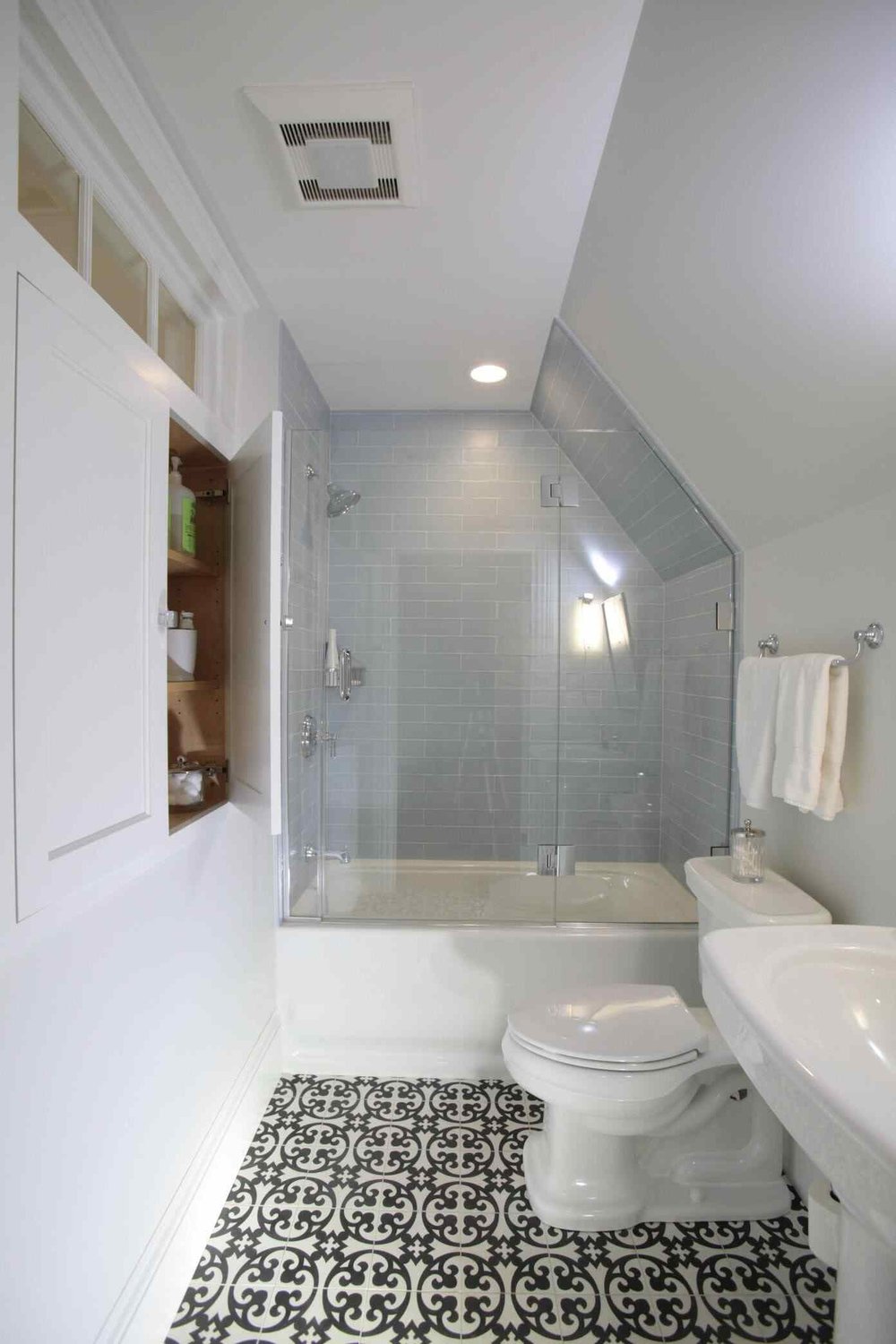 Laminate Countertops
Laminate countertops, while affordable and easy to maintain, are losing popularity in bathroom design. Many bathroom remodels now feature more luxurious and durable options like quartz, marble, or granite countertops. These materials add elegance and a high-end feel to the bathroom.
Over-the-Toilet Storage
Over-the-toilet storage units, once a common storage solution in bathrooms, are starting to go out of style. Many folks are now embracing alternative storage options like built-in wall niches, floating shelves, or vanity cabinets with ample storage space.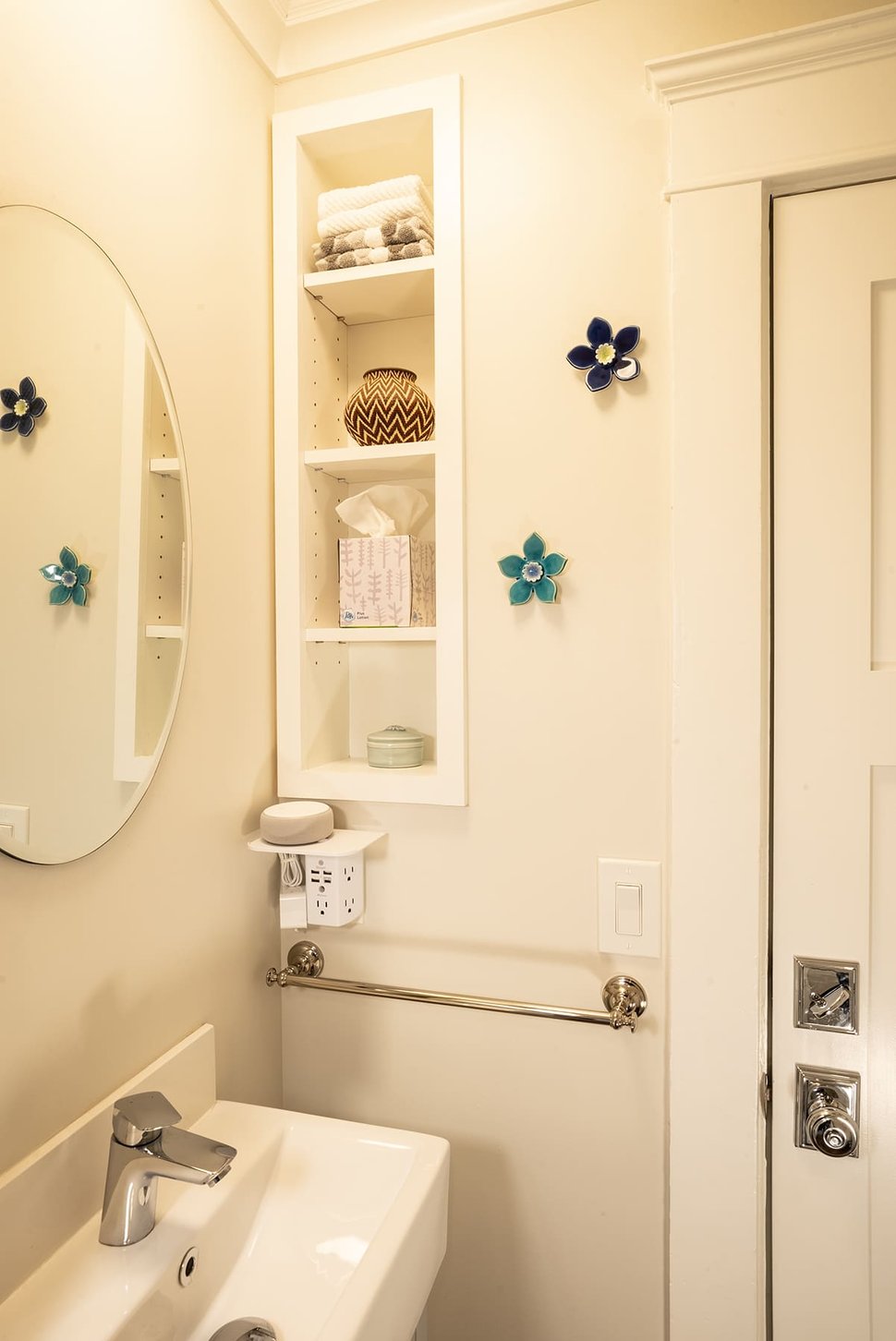 Matchy-matchy Fixtures
Matching every fixture in the bathroom, such as faucets, towel bars, and lighting fixtures, is becoming less popular. Many bathroom remodeling plans are now mixing and matching different finishes and styles to create a more eclectic and personalized look. Combining finishes like matte black, brushed brass, or polished chrome adds visual interest and depth to the bathroom design.
Tile on Bathroom Walls
While tile on bathroom walls has been a standard practice for years, it is gradually becoming less popular. More projects now include alternative wall treatments such as waterproof paint, textured wallpaper, or even wood paneling to add warmth and character to the space. These alternatives create a unique and personalized look that goes beyond traditional tile installations.
Curious about the average budget for a bathroom remodel near you? Our bathroom cost guide can help!
Pebble Shower Floors
Pebble shower floors, once admired for their natural and spa-like appeal, are losing their favor in 2023. We notice the rise of sleeker and more modern options like large-format tiles or mosaic tiles in varying textures and patterns. These options provide a cleaner and more contemporary look while maintaining the functionality of a slip-resistant shower floor.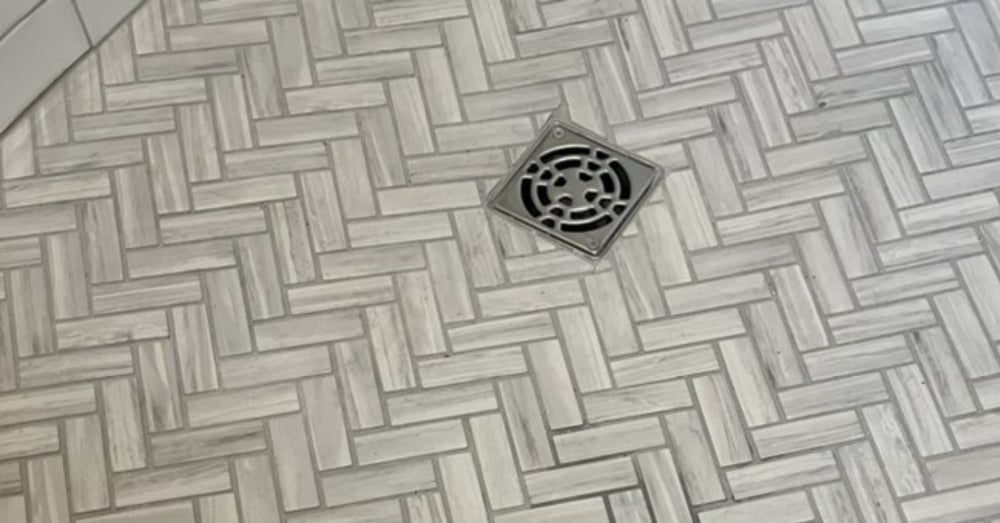 Freestanding Tubs
While freestanding tubs have been a sought-after luxury in bathroom design, their popularity is beginning to wane, especially in guest spaces or hall bathrooms. We are seeing more space-efficient solutions such as built-in or alcove tubs. These options save space while still providing a relaxing and comfortable bathing experience.
If you're considering a bathroom remodel in the Seacoast area, Oxland Builders is excited to meet you. Our team of experienced professionals specializes in creating stunning and timeless new living spaces that meet your unique vision and needs. Contact us today to start your journey toward the bathroom of your dreams.