Unless you built your Portsmouth, NH, house yourself, there are probably at least a few things you don't like about your home. Older homes often have small kitchens, tiny bathrooms, or peculiar floor plans that don't make sense. Even if you're perfectly happy with your home's layout, you may dream of adding a master bedroom suite or using the space in your basement for a guest suite and home theater.
A renovation will give you the space and amenities you need and increase your home's value. If you're considering renovating your Portsmouth home, here are a few things you'll need to consider before you begin the process.

Exploring your Remodeling Options is Essential
Before you make a call to a Portsmouth renovator for an estimate, do these things:
Consider your Renovation Goals: What do you love about your home? What things would you like to change? List everything you dislike about your home, no matter how trivial the issue. Perhaps keeping dishes clean during parties is a problem, or you get cold and wet walking the 10 feet from the garage to the house when it rains. Including a second dishwasher or enclosing the space between your garage and your home could solve those problems.
Do a Little Browsing for Home Design Ideas: Looking at home design photographs on the Internet and in magazines makes it easier to settle on a style and features for your new home. Don't forget to check the websites of the renovators you're considering when you browse. Many, like Oxland Builders, offer photographs and descriptions of projects they've completed.
Set an Estimated Remodeling Budget: How much do you plan to spend on your Portsmouth home renovation? Is there any wiggle room if the features you want will cost a little more than expected?
The home design process proceeds much more quickly when you know exactly which features you do and don't want. Doing a little research and soul-searching can also save you money. If you know exactly what you want, you'll avoid costly change orders during the building phase of the remodel

It Pays to Find a Portsmouth Remodeler Who's Had Experience with Homes Like Yours
You wouldn't trust any mechanic or repair shop to fix a classic old car or restore a vintage watch, so why settle for a low-bid contractor who hasn't worked on an older or historic home before? When you interview renovators, be sure to ask if they've ever completed a renovation on a home like yours before and if they can provide references from satisfied clients.
Older homes, whether they're Cape Cods, Shingle Style, Italianate, Georgian, Second Empire, Federal, Queen Anne, or Colonial, usually have a few quirks and unusual details that can make them a little more challenging to renovate. If your remodeler doesn't know how to restore or incorporate key features, you may end up spending thousands on fixing his or her mistakes.
Experienced renovators can upgrade your house with out sacrificing the features that make your home stand out. Experience is significant if your home has received a historic designation, as particular building standards and codes apply to these homes.
Fortunately, the Oxland Builders team has extensive experience working on historic and older homes in the Portsmouth area and can even recreate custom millwork. Please take a look at our project gallery to see examples of our work.

Don't Forget About Protecting Your Seacoast Home from the Elements
Wind, moisture, and humidity are more of a concern in Portsmouth than in other areas of the country due to our proximity to the bay. Be sure to ask remodelers what they plan to do to prevent rot, corrosion, mold, and mildew in your newly remodeled space.
At Oxland Builders, we use treated wood, brick, concrete, and other materials that resist corrosion and withstand any weather condition. Adding impact-resistant windows will keep your home free from water damage even if the windows are exposed to hurricane-force winds. During your remodel, we can also add insulation and use environmentally friendly building products and techniques that improve energy efficiency.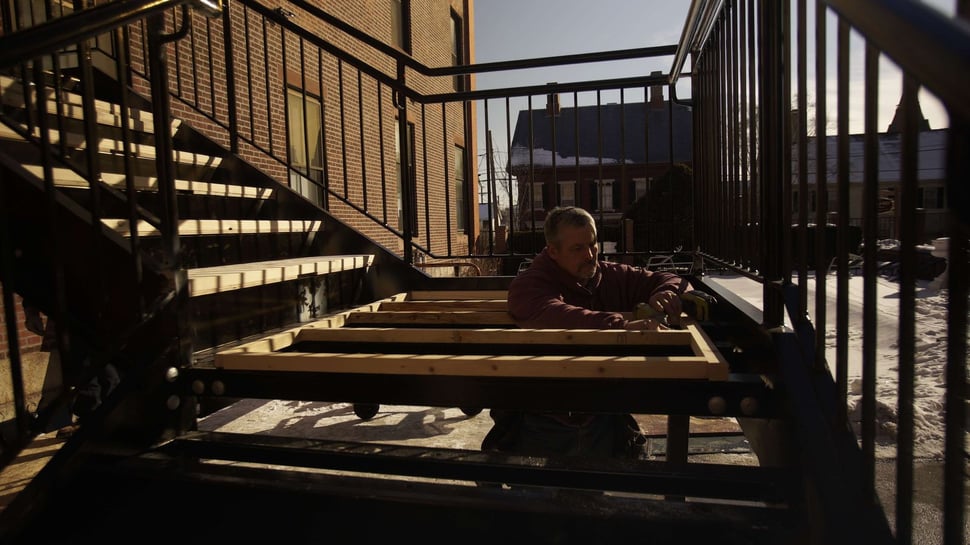 Know What Permits you Need for a Portsmouth Renovation
All renovations in the Portsmouth area must meet the current building code. Portsmouth makes sure homeowners adhere to the code by requiring permits and inspections for renovation work. Luckily, you won't have to worry about getting permits for your project. Obtaining permits and working with building inspectors is one of the services the Oxland Builders' team handles.
If you'd like more information on permits, the City of Portsmouth's FAQs explains when permits are required. If you are remodeling a historic home, your remodeler will need to submit a Land Use Application in addition to permit forms. Are you remodeling a historic home? Check out the New Hampshire Preservation Alliance's website for tips about historic renovations.
Eager to get started on your renovation? Complete our contact form to get the process started.