The home-buying process often requires a few compromises. You may have to settle for small bathrooms to get the kitchen of your dreams. A home that offers the perfect lot may not have the master suite or large deck you wanted. Fortunately, a home addition can give you the extra room you need.
Costs are an important consideration when you're thinking about expanding your home. These estimates can help you determine how much you'll need to spend for a Northern Massachusetts, Seacoast New Hampshire, or Southern Maine addition.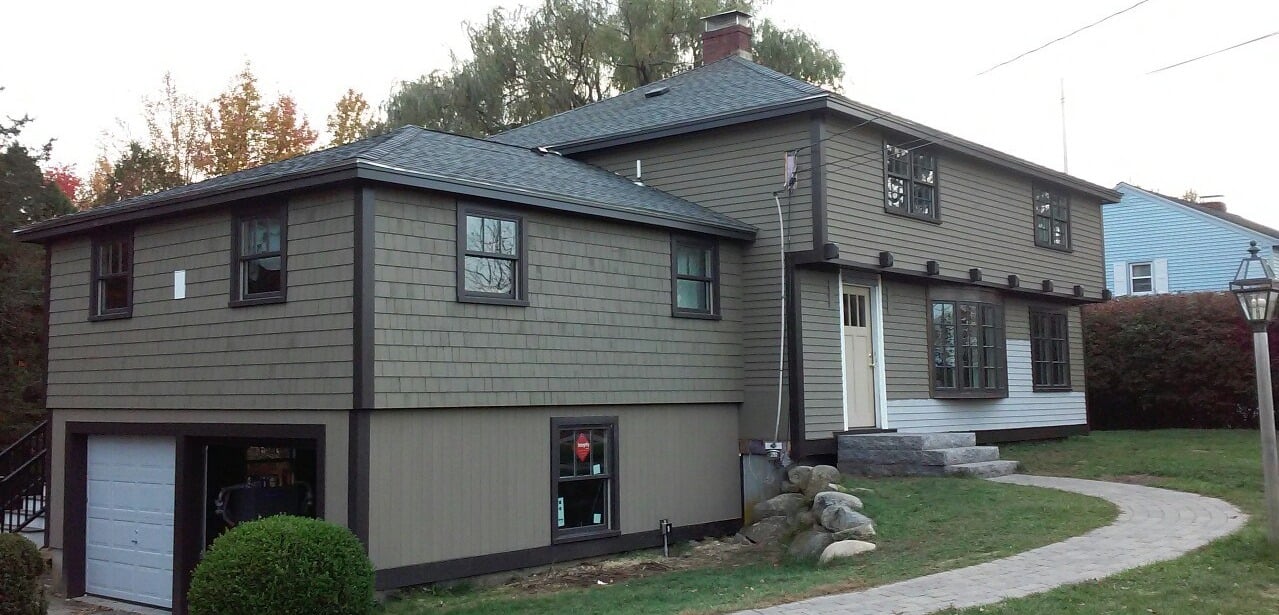 Cost Estimates for 5 Popular Additions Near Portsmouth
New Hampshire Homeowners Frequently Request These Remodeling Projects
Addition costs vary depending on the type and size of the new space. Remodeling.com's Cost vs. Value report provides estimates that can help you determine how much you'll need to spend. For comparison purposes, here's a look at five popular types of additions and estimated costs of the deck, bathroom, and master suite additions from the report:
1. Deck Addition: Cost estimates are for a 16 x 20' deck composite or wood deck that's supported by pressure-treated joists and 4 x 4" posts anchored to concrete piers. The deck material is installed in a linear pattern. Three steps, a planter, and a built-in bench built of the same decking material are included in the estimates.
2. Mid-Range Bathroom Addition: These estimates are for a 6 x 8' (48 square feet) bathroom built over a crawlspace with poured concrete walls. The bathroom includes a 30 x 60" white fiberglass tub/shower with ceramic tile surround, cultured stone vanity top with molded sink, chrome faucets, single-lever temperature, and pressure-balanced faucets, wiring, white low-profile toilet, general and spotlighting, mirrored medicine cabinet, linen storage cabinet or closet and ceramic tile floors.
3. Upscale Bathroom Addition: The 100-square-foot addition offers more luxurious features than the mid-range bathroom. The room includes a freestanding soaker tub, high-end faucets, ceramic floor tiles, in-floor heating, a stone countertop with two sinks, a one-piece toilet in a separate compartment, two mirrored medicine cabinets, exhaust fan, general and task lighting, custom cabinetry, and a 42 x 42" neo-angle shower with ceramic tile walls, body-spray fixtures, recessed shower caddy, and frameless glass enclosure.

4. Mid-Range Primary Suite Addition: Cost estimates are based on a 24 x 16' master bedroom suite built over a crawlspace. Features include carpeting, paint, general and spotlighting exhaust fan, walk-in closet/dressing area, toilet, double-bowl vanity with solid-surface countertop, freestanding soaker tub, and a separate 3 x 4' ceramic tile shower.
5. Upscale Primary Suite Addition: The upscale master suite addition is 32 x 20' and includes a spacious sleeping area with a lounging/sitting area, custom bookcases and built-in storage with millwork details, walk-in closet/dressing room with natural light, a high-end gas fireplace with stone hearth and custom mantle, linen storage in the walk-in closet, French doors, freestanding soaker tub, separate vanities with sinks and stone countertops, one-piece toilet in a separate compartment, soundproofing, in-floor heating, custom wall finishes, and a walk-in, dual shower system with stone walls and floor and a frameless glass enclosure. The suite also includes a 5-foot-long hospitality center with an undercounter refrigerator, microwave, bar sink, custom cabinetry, and stone countertops.
Here's what the Cost vs. Value reports say you can expect to pay in our area of New England for these additions:
New Hampshire Home Addition Costs
Including Addition and Extension Costs for the Portsmouth Area
Wood Deck Addition $24,151
Composite Deck Addition $30,027
Mid-Range Bathroom Addition $82,281
Upscale Bathroom Addition $142,075
Mid-Range Primary Suite Home Extension $221,745
Upscale Primary Suite Home Extension $446,443
Maine Home Addition Cost
Including Addition Costs for Seacoast Area in Southern ME
Wood Deck $22,044
Composite Deck $25,962
Mid-Range Bathroom $66,576
Upscale Bathroom $128,591
Mid-Range Primary Suite $181,608
Upscale Primary Suite $274,700
Massachusetts Home Addition Cost
Including Addition Costs for Seacoast Area in Northern MA
Wood Deck $20,677
Composite Deck $25,708
Mid-Range Bathroom $70,445
Upscale Bathroom $121,639
Mid-Range Primary Suite $189.849
Upscale Primary Suite $382,225
Home Addition Cost Factors to Consider
Design and Logistics
Although these estimates will give you a general idea of addition costs, the total for your budget may be higher or lower depending on the square footage of your addition. Generally, the bigger the addition, the more you'll pay. Large or multi-story additions require more building materials, a larger construction crew, and more man-hours to complete. For example, your addition may cost more in the city of Portsmouth. If your property is difficult to access or the addition will be close to trees, fences, driveways, etc.
Additions that are basically rectangular or square rooms are a little less expensive because the building process is fairly straightforward. It's certainly possible to build a room in any shape you want but more complex additions will cost more and take longer to build.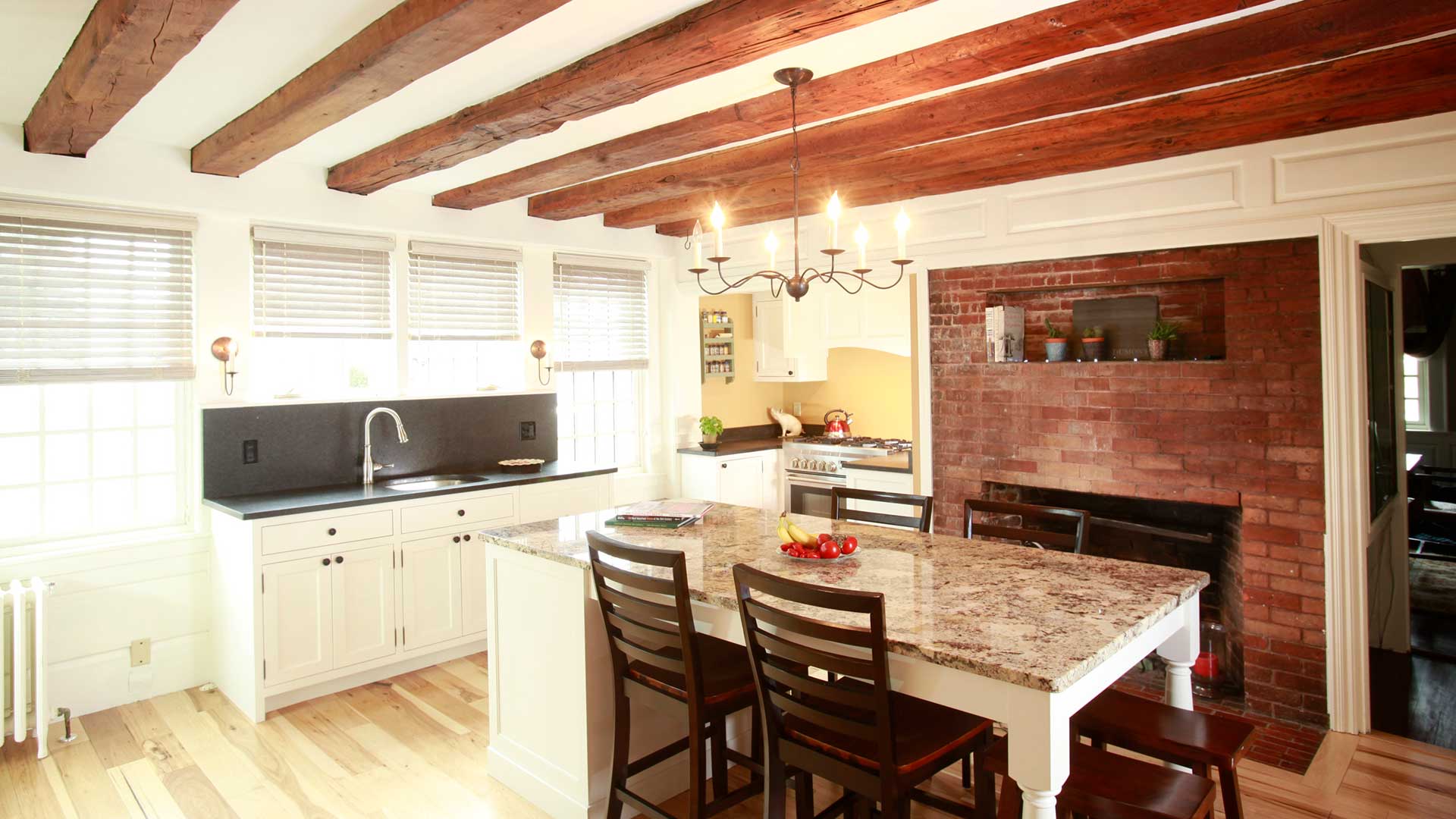 Services and Features That Can Increase Your Budget
Labor is a significant cost in any addition. In addition to the construction crew, your project may require the services of experienced craftsmen and contractors, like plumbers and electricians. Plumbing and electrical systems are two things you definitely don't want to skimp on. In addition to causing safety issues, problems with these systems often involve tearing apart walls, floors, or ceilings to make repairs. Additions that require extensive plumbing and electrical work will always be more expensive than those that only need basic wiring.
The quality of the materials, appliances, features, finishes, and whether you choose to add smart technology to your addition will obviously increase or decrease your total cost. Custom cabinets and millwork, top-of-the-line appliances, and special order building products cost more, but they also increase the value of your home addition.
Are you ready to build an addition to your home in or near Portsmouth? We can help you create the ultimate home addition along the Seacoast in New Hampshire, Southern Maine, or Northern Massachusetts. Get in touch with us to begin the process.
This article uses data from the most recent 2022 Remodeling Cost vs. Value report, which pulls averages from 2021. Due to unprecedented market volatility and supply chain irregularities last year, residential construction prices in New Hampshire Seacoast have increased up to 25% for some projects. Have a discussion with an experienced builder to know the most accurate and up-to-date building cost estimates. Now it's more important than ever to hire a professional contractor with longstanding supply and labor relationships.