Welcome to one of our most recently completed projects. This duplex remodel re-imagined this stunning 160-year-old home as a primary residence and rental unit. The homeowner was an integral part of this project from the very beginning. In fact, she had a well-developed vision that she created with free online design software. We needed to make significant modifications to create a feasible plan, but her evident passion for design and articulated details made it easy for us to plan together and create something that satisfied her discerning eye.
We created two apartments. The homeowner's living space consisted of 540 square feet on the first floor. Above, we built a 3-bedroom, 2-full-bathroom 850 square-foot rental unit that spanned the second and third floors of the building. With private entrances and private yard space, this duplex remodel supports the homeowner and renter in blissful coexistence. Because our homeowner understood that she would always be living with upstairs neighbors, quality soundproofing between each story was essential to the project. We can't wait to show you around this unique and beautiful Seacoast, New Hampshire duplex renovation.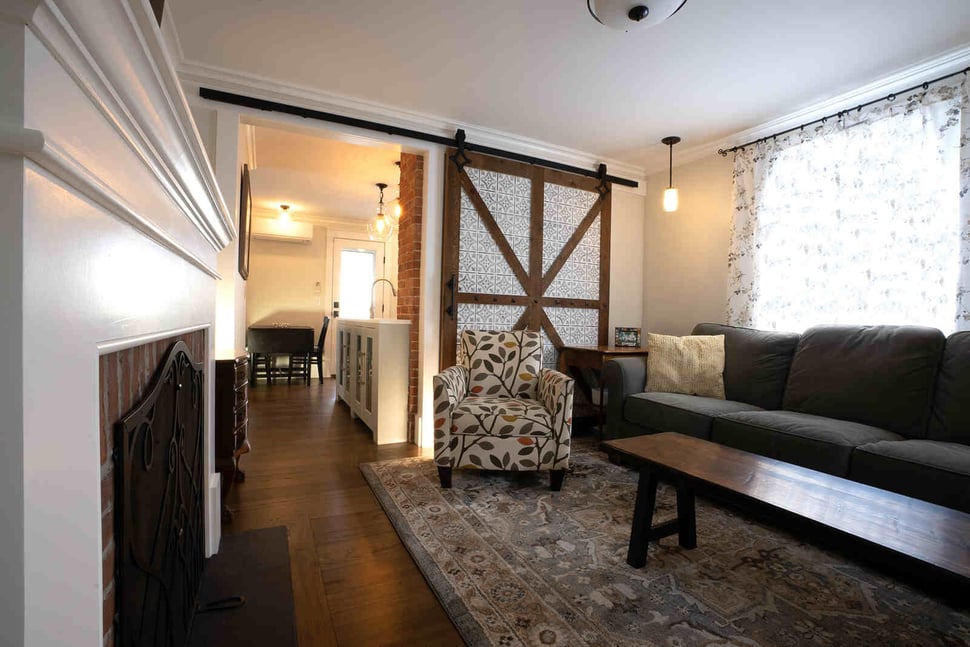 Original Details
Original details and resourceful ideas abound in this design. For example, this sliding barn door uses original floorboards as cross pieces mounted on a tin ceiling panel. This bespoke piece fits perfectly in the home and pays homage to its earlier days. We have specifically selected the Novella Luxury Vinyl Plank throughout the project to present a similar appearance to times past. The coffee table recycles old countertop, and the wall decor features panels for the original stained glass panels. The home's heritage countertops were put to work again as fold-out tables and workspaces at the end of the kitchen island.
We preserved many exterior elements of the home, including the original gas lanterns, though they are not active. We used custom windows in a few bedrooms so we could maintain the look of a double-hung window but open it like a casement (crank out) window. This was an important detail in maintaining the historical character of the exterior.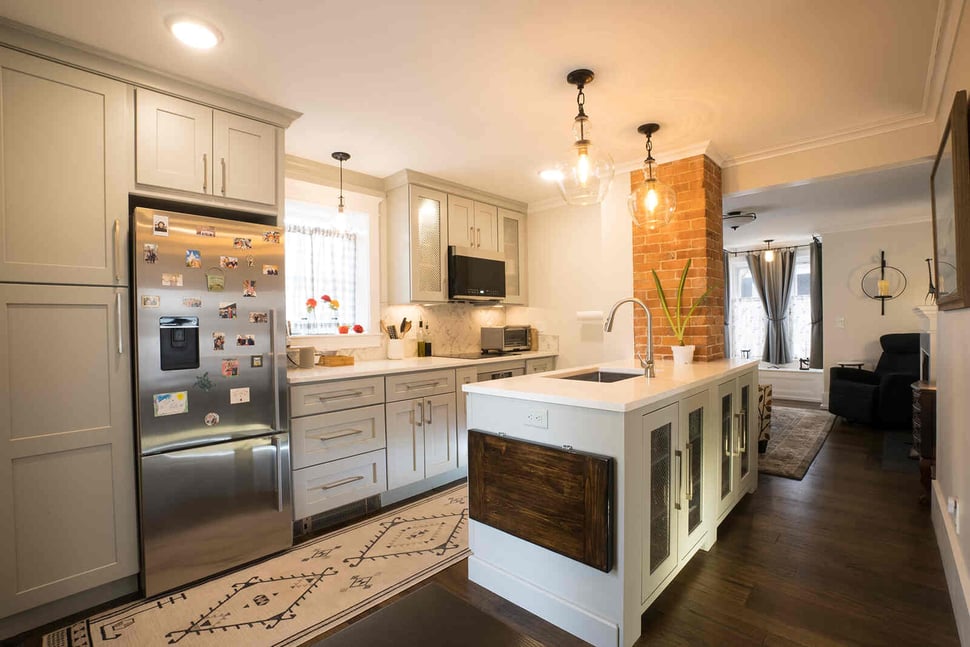 Cozy and Chic Kitchen
This decadent soft green kitchen remodel makes fantastic use of space, including decorative panels on upper cabinets with custom lighting, a pantry for kitchen storage, and showcase storage with glass doors on the back side of the island. This efficient small kitchen remodel provides maximum elegance, featuring transitional farmhouse details like exposed brick and glass pendant lights. These custom white shaker cabinets with chrome hardware are crowned in sleek white MSI quartz for timeless appeal and durability.
Our kitchen remodeling price blog can help you align your expectations and budget with the current market on the Seacoast.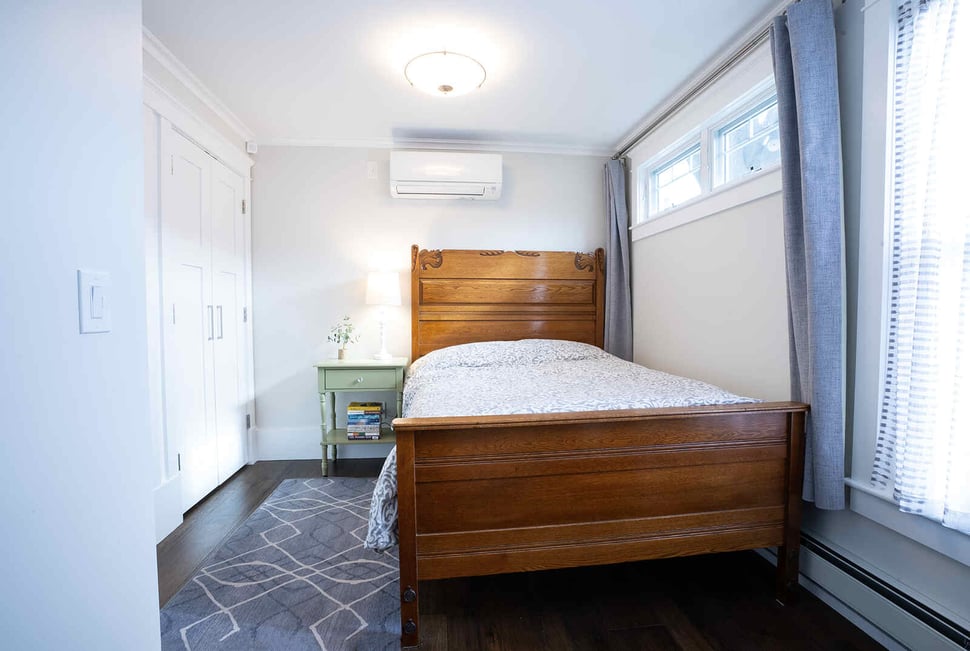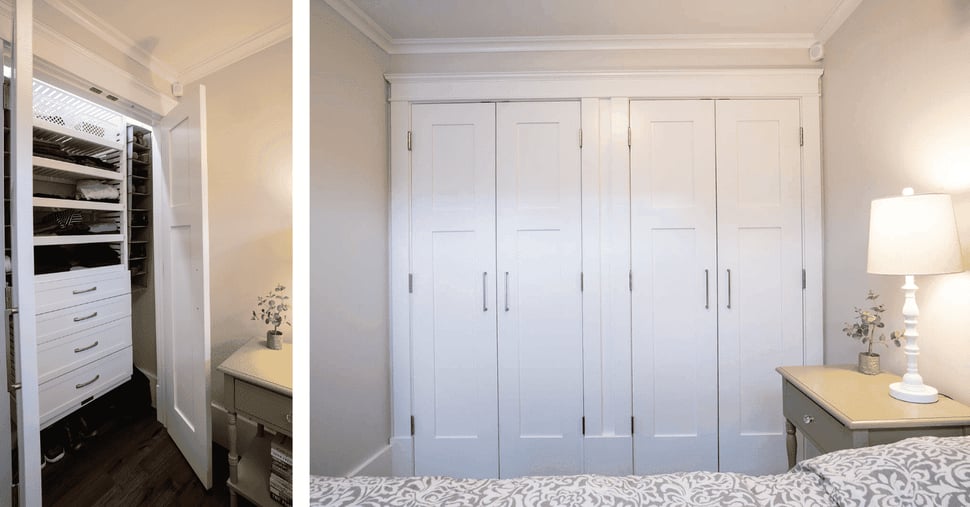 Storage Upgrades and Space Saving Strategies
We were so space-conscious during design that we created a thinner-than-typical wall to hang storage on the backside of the doors, and this storage wouldn't interfere with the shelving on the interior. We built custom shelving to keep items tidy in the laundry space and several bathrooms.

Bathroom Bliss
The downstairs primary bathroom features lovely materials like white subway tile and black hexagonal floor tile. The shower offers a luxury experience augmented by multiple showerhead options in classic chrome. We finished the bathroom vanity with MSI quartz countertops for durable beauty and built-in extra shelving for storage and convenience.
The value of a half-bath is not lost on anyone who has ever shared a home with someone else. Even at 540 square feet, the primary bathroom is not the only option for guests and other family members. This efficient first-floor apartment also features a small powder room.
Wondering what you'll pay for the bathroom remodel you've got in mind? Head here to our bathroom remodeling cost blog for a breakdown of the current costs in the area and the factors that influence the price of each project.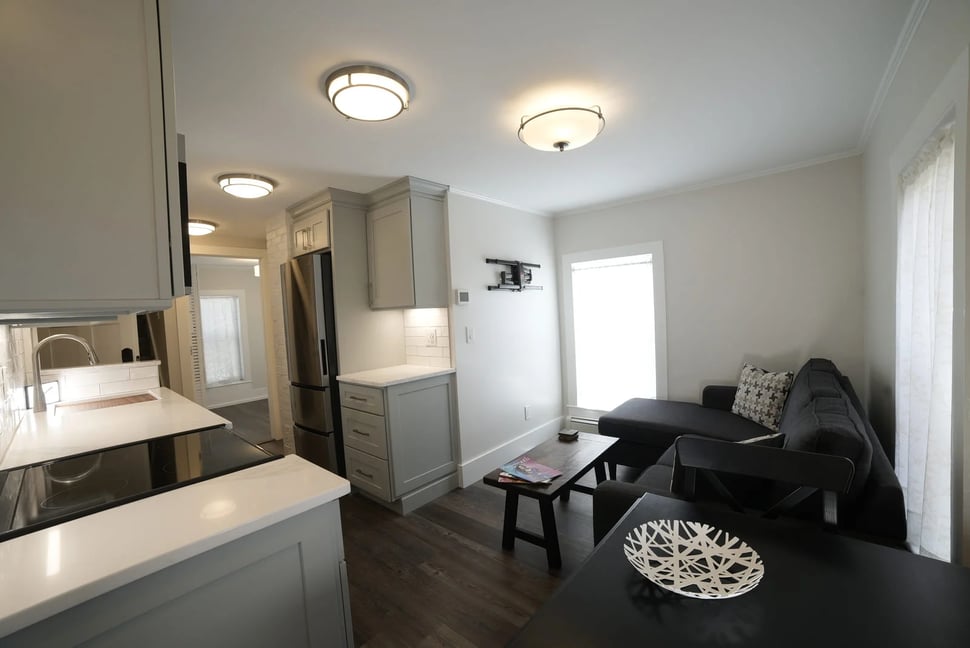 Clean and Bright
Though many of the appliances in this project are full-sized, you'll notice apartment-sized features like a smaller dishwasher or refrigerator strategically selected to fit into the limited space. Everything can be wall-mounted has been, including the TV, toothbrush holders, and extra shelving, to free up floor space and create a place for everything.


It's All About the Space
Storage has always been at a premium in this home. We preserved the original built-in hallway cabinets, refacing and repairing doors when necessary to offer modern storage solutions and continued vintage appeal. The updated hooks for linens, laundry, jackets, and more provide flexible options to keep essentials close at hand.
Acknowledging the challenge close quarters can create, the homeowner researched and hand-selected furniture for her home and her rental space. This way, the furniture fits seamlessly into the living space and offers renters a fully-furnished apartment without the headache of furniture Tetris.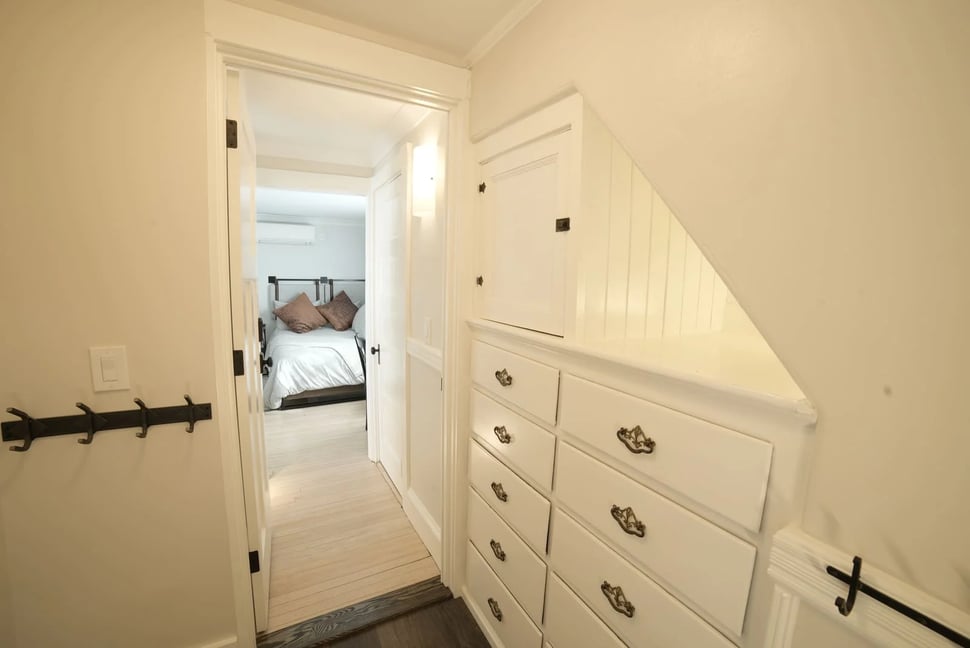 Oxland Builders Creates Your Dream Seacoast Remodel
Ready to build something completely unique for your dream home remodel in Seacoast, New Hampshire? We'd love to execute your home remodel to its fullest potential together. Reach out today to tell us about the remodel you've got planned.