The home building process actually starts long before you pick your appliances or decide how many bedrooms you'll need in your Coastal New Hampshire custom home. In fact, site preparation just may be the most important aspect of homebuilding. Without proper preparation, you may face delays, higher-than-anticipated costs, or issues that could affect the foundation and structure of your new home.
Why It Pays to Take a Close Look at Your Property Before Building
No matter how ideal a building site may appear at first glance, there are bound to be a few issues you and your builder will need to address before the building can begin. Before you start daydreaming about how your new home will look on the lot, you'll need to consider:
Soil Quality
It's impossible to create a strong foundation if you build your house on the wrong type of soil. Soil testing breaks down the types of soil on your property and helps your builder determine the best place to build on your lot or decide if the building is even possible.
Some soils are better for building than others. For example, clay retains water and expands when wet, which could damage a home's foundation. Granular soils, particularly those made up of a mix of sand, silt and gravel, drain well and are better suited for building.
Perc Test Results
If you can't tie into a public sewer system, your property will need to pass a perc test before you add a septic tank and leach field to your lot. The test measures how quickly water drains through the soil. If drainage takes too long, installing a septic system could lead to groundwater contamination or a puddle of sewage in your yard.
Perc tests are usually conducted on several different areas to determine the best place for your septic tank and leach field. Unfortunately, a failed perc test means you won't receive approval to install a septic system. You can always repeat the test or test other areas of your property, but if all the tests come back with the same negative results, you won't be able to build a home on the property. It's best to schedule soil and perc tests before you buy the property to ensure that you can actually build on it.
Slopes
A sloping property may offer impressive views of the New Hampshire countryside but building on a slope makes the construction process a little more complicated and costly. Depending on the degree of the slope, you may need to level the ground with fill dirt, excavate or blast the sloped area to make it level, or build part of the house on stilts. Homes built at the bottom of slopes are prone to foundation damage from stormwater runoff unless your builder adds retaining walls, culverts, drains, and other water mitigation solutions. Sloped lots also make it more difficult to find a place to put septic tanks and leach fields.
Despite the challenges, sloped lots are often more private and offer other benefits. Thanks to the hilly terrain, you may be able to add a walk-out basement or install dramatic landscaping features.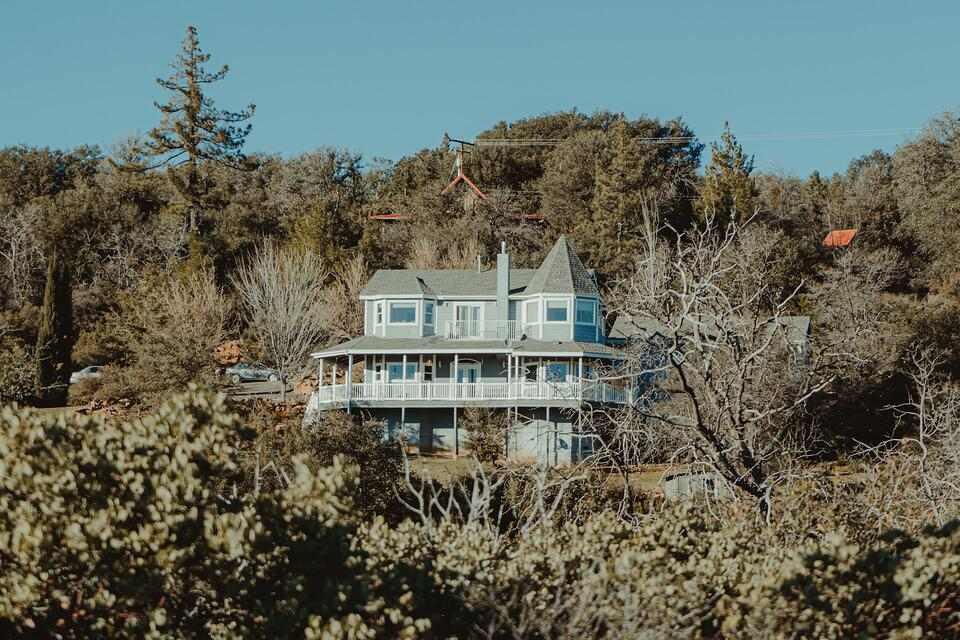 Ledges
Finding a rocky ledge a few feet under the soil isn't an uncommon occurrence in New Hampshire. Ledges make constructing foundations a little more challenging and, of course, increase your costs. A ledge may mean that it won't be possible to build a basement or might affect the size of your basement. Depending on the size, depth and location of the ledge, your builder might recommend blasting to remove some or all of the ledge.
Pinning the ledge to the foundation may also be an option. Pinning involves drilling holes into the ledge, placing rebar in the holes, then attaching the foundation to the rebar. If the ledge is sloped, you may need to add drains or other waterproofing measures to prevent water from running down the rock into your basement.
Your Right to Build on the Land
Are you absolutely positive you can build a home on your land? If the land hasn't been subdivided properly or approved for residential use, you'll need to petition the zoning board for a variance or zoning change, which may or may not be successful.
A survey is incredibly helpful in determining where your land starts and ends and can help you avoid disputes with neighbors. In addition to marking the borders of the land, the surveyor provides information on zoning and other issues that might affect your ability to build the type of home you envision. Surveys also help you decide where to place your house and other buildings on the land and are required for building permits.
Wetlands
Wetlands are a crucial and protected part of the ecosystem. These landforms absorb rainwater, replenish groundwater, filter out toxins, and provide a home for many plant and animal species. Filling in wetlands makes building possible but may increase flooding and soil erosion. For that reason, you probably won't be able to build your home on wetlands, but you may be able to build in a transitional area near the wetlands.
If you plan to build on or near wetlands, you'll need to obtain a variance from the Environmental Protection Agency. The process can be lengthy and may delay the construction timeline of your new home.
Site Preparation
Before you can pour your foundation, you'll need to clear your lot in preparation for the construction process. Preparation costs vary depending on how many trees and rocks must be removed, or if soil improvement or grading is needed. Site preparation may also involve building a driveway for construction equipment, arranging for a temporary electricity hookup, or bringing in portable toilets or a job trailer.
Are you ready to build the home of your dreams on a prime piece of Coastal New Hampshire real estate? We'll help you evaluate potential sites, prepare your lot for building, and create a home you'll love. Contact us to get the process started.